Twitter Erupts After the First Show in WWE ThunderDome
Published 08/22/2020, 11:08 PM EDT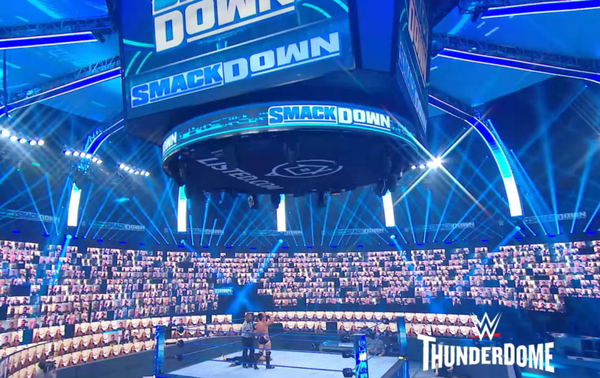 ---
---
ThunderDome truly took it to the next level. The latest episode of WWE SmackDown was great and there were a lot of improvements made to the entire stadium. Even though the visual experience got a lot of positive reviews from fans, a large number of fans didn't really enjoy what they were seeing.
ADVERTISEMENT
Article continues below this ad
I fell asleep just like half the people on the thunderdome it was a disaster

— Scott gavin (@Scottgavv) August 22, 2020
ADVERTISEMENT
Article continues below this ad
ThunderDome's visual screening of fans' faces seemed a bit weird to so many people. Even though it did look futuristic, the entire thing spelled 'online class' more than 'wrestling match'.
Watching last night's #SmackDown show is ok but not feeling the thunderdome thing.

— John Lee Benoit (@JohnLeeBenoit1) August 22, 2020
The WWE creative team may have also gone a bit overboard with the descriptions. Fans expected something really over the edge and saw the new stadium as something of a huge change.
Essentially, ThunderDome was overhyped. Perhaps WWE could have played it out better by not getting fans too excited for it either.
Another gaping flaw in the system was that a single person's face could be seen multiple times on the screen tiles. One person was spotted nearly 10 times across the board.
A good number of fans also complained that they had registered to be a virtual fan for ThunderDome but when SmackDown began, they were on the waiting list for a whole hour before being let in.
This Thunderdome thing is stupid anyway

— Elizabeth (@kiffenaustralia) August 22, 2020
WWE has to work on a lot of things before SummerSlam
Fans also found it immensely creepy that a lot of faces were there just staring a smiling. It seems really odd, given that actually fans are always moving. 
First 10 minute thoughts:

The piped in crowd sounds ABSOLUTELY GOD AWFUL.

Strowman's music hit, and you abruptly heard it all stop.

Then it picks up again when it stops #WWEThunderDome #SmackDown

— Jerry (@JDfromNY206) August 22, 2020
WWE's use of recorded crowd cheering was also not appreciated. The show was further criticized because apparently, fans wearing AEW t-shirts were not allowed inside.
ADVERTISEMENT
Article continues below this ad
WWE ThunderDome looks way better than the Performance Center setup, but the sound is somehow way worse and less authentic.

— Seth Sommerfeld (@sethsommerfeld) August 22, 2020
Fans feel that WWE aimed too fair and fell short on many aspects. However, this was only the first attempt at ThunderDome. There will obviously be a lot of fixes as we head into SummerSlam.
ADVERTISEMENT
Article continues below this ad
WWE can put the visuals to trial again at NXT TakeOver before SummerSlam. 
What really must be appreciated is that WWE has gone so far to please its fans and has done so successfully with the ThunderDome. Even though there are some things than need to be worked on WWE has done a very good job with this new idea.