Two of the Biggest WrestleMania Rivalries of Dwayne 'The Rock' Johnson
Published 03/23/2021, 9:45 PM EDT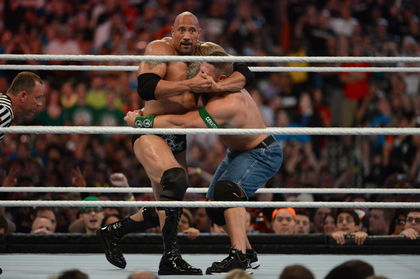 ---
---
Dwayne Johnson aka The Rock has featured in some intense rivalries for the years. From the inception of his career, he had to face some mighty challenges to mold himself into the legendary stature that he holds now. Out of all his opponents, the rivalry with Stone Cold Steve Austin and John Cena is the best known.
ADVERTISEMENT
Article continues below this ad
While some turn out to be just another bout in the ring, others make their mark in the history books. The WrestleMania bouts between The Rock and Steve Austin back in 2001 and the one between him and Cena in 2013 are some significant ones to look back to.
The Rock Versus Stone Cold Steve Austin (WrestleMania 17)
ADVERTISEMENT
Article continues below this ad
The main event of the WrestleMania X-7 was between soon-to-be legends, The Rock and 'Stone Cold' Steve Austin. It was a match to look out for, as it was for the WWE (then WWF) Championship. Before their introduction, a no-disqualification stipulation was added.
Imposing the stipulation indicated foul play at the outside of the ring. The speculations came true when Vince McMahon interfered in the match. The 'electrifying one' was ready to pin Stone Cold after applying the 'People's Elbow.' However, Vince pulled his leg and released Steve from the grip.
McMahon even handed Stone Cold a steel chair to hit Rock. It might seem surprising as Vince and Steve were considered enemies. With this incident, Stone Cold turned heel and attacked the Rock spontaneously with it. The blows landed heavily, and Rock was beaten as Austin pinned him down to lift the championship.
The Rock Versus John Cena (WrestleMania 29)
This match was the rematch of the "Once in a lifetime match" from the previous year's WrestleMania. However, this time, the stakes were even higher.
The match was for the WWE Championship. The Rock won the belt from CM Punk at Royal Rumble earlier. On the same pay-per-view, Cena won the Royal Rumble to become the number one contender.
ADVERTISEMENT
Article continues below this ad
The match was reminiscent of last year's contest. Cena alluded to the past People's Elbow attempt before he delivered a third attitude adjustment to win the match. The Rock kicked out of many earlier pins, but he fell to this one.
Following the match, both men ended their animosity towards each other as they shook hands. The Rock then raised Cena's hand acknowledging his new reign.
You can check out more WrestleMania rematch highlights (along with these two) below –
ADVERTISEMENT
Article continues below this ad