"Two of the Greatest Tag Teams" – Stone Cold Steve Austin Urges WWE to Induct Midnight Express Into Hall of Fame
Published 03/29/2021, 9:58 AM EDT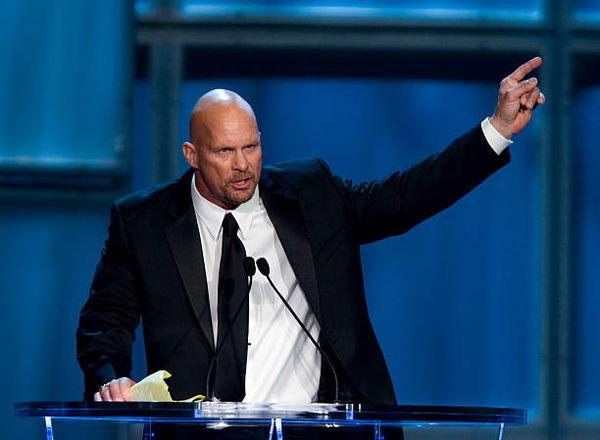 ---
---
WWE Hall of Famer 'Stone Cold' Steve Austin recently shared one of his favorite classic tag matches on Instagram. As he spoke of a Hall of Fame induction for the tag teams, former WWE superstar CM Punk also weighed in.
ADVERTISEMENT
Article continues below this ad
The WWE Classic match was between the Midnight Express (w Jim Cornette) vs Rock-and-roll Express from April 28, 1990. The latter team of Ricky Morton and Robert Gibson got into the Hall of Fame in 2017.
"Watching a quick classic match on YouTube," Austin wrote in the caption. "Midnight Express with Jim Cornette vs. Rock-and-roll Express. 4-28-90 — Cornette with the ref distraction in the first clip. Killer punches from Bobby and Ricky."
ADVERTISEMENT
Article continues below this ad
"Referee Nick Patrick with the leapfrog in the second clip. Midnight [Express] should be in HOF. Two of the greatest tag teams of all time. Freebirds with the interference…#ProWrestling at its best."
 

View this post on Instagram

 
The Midnight Express was a tag team of interchanging members, which lasted almost three decades. They have won multiple NWA and AWA Tag Team Championships. Interestingly, Jim Cornette, who was the permanent manager of the Midnight Express, inducted Rock-n-Roll Express into the Hall of Fame.
CM Punk reacts to the Instagram post of Steve Austin
Following the post, Austin's successor, CM Punk, came in to comment on the situation. Putting aside the Hall of Fame talks, he chose to focus on the highly athletic referee.
"The referee should be suspended and have his license revoked after a rigorous review from the board," Punk joked around. This is not the first time Austin and CM Punk have collided in banter on social media.
ADVERTISEMENT
Article continues below this ad
A few months back, a fan asked Punk on Twitter if he could stand in front of the mighty "rattlesnake." To which, Punk answered that a simple GTS (Punk's finishing move) would do the job.
When Austin heard these claims, he simply termed them as ridiculous. "You did say that. Damn. Complete delusion. I had us at a 60-minute time limit match at the Rosemont Horizon. Right there in Chicago. Chi-Town. The Windy City. Helluva match. Caught you with a Stunner at 59:56. You did not kick out."
The very similar duo initially teased a match between each other in 2012. However, that match never took place and CM Punk left WWE. Let us know your thoughts on the Instagram banter below.
ADVERTISEMENT
Article continues below this ad