Two of Triple H's Dearest WWE Stars Face an Uncertain Future
Published 03/26/2022, 8:30 AM EDT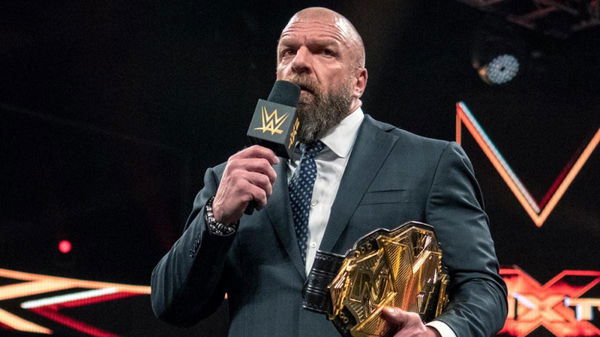 WWE legend Triple H last night announced his official in-ring retirement from the company. Last year, when Triple H took time away from the company, WWE reported it was due to a cardiac event. Now, during an interview with Stephen Smith on ESPN, Triple H revealed that his heart conditions wouldn't allow him to wrestle again.
ADVERTISEMENT
Article continues below this ad
While fans will not see Triple H compete at this year's WrestleMania. Two of Triple H's favorite wrestlers from NXT also won't be at this year's WrestleMania match card. After the latest episode of WWE SmackDown, the company did not book spots for the US Champion and Intercontinental Champion. 
Apart from spending 27-years inside the wrestling ring, Triple H has also been an executive producer of the NXT brand. The two dearest WWE stars of Triple H are Finn Balor and Ricochet.
ADVERTISEMENT
Article continues below this ad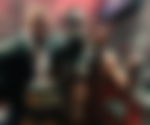 Ricochet and Finn Balor, earlier in March, became the Intercontinental Champion and United States Champion, respectively.
What do fans expect from WWE for King Ricochet and Finn Balor?
First, Prince Finn Balor defeated Damian Priest to become United States Champion on Raw. Then, King Ricochet defeated Sami Zayn on a SmackDown episode to become the Intercontinental Champion in the same week.
The WWE Universe was extremely happy for the two-mid card superstars winning the secondary titles of WWE. They won the two respected titles just a month before The Stupendous WrestleMania 38. And so fans expected Balor and Ricochet to defend their new titles at the Biggest Show of the Year. However, WrestleMania 38 is just six days away, and still, the company has no plans for them.
Watch this story: – WWE Raw Results: Kevin Owens Impersonates Stone Cold, Edge Costs Seth Rollins a WrestleMania Spot, and More!
WWE announced that Ricochet, and Balor would defend their titles on SmackDown.
In a triple threat match, King Ricochet will defend the IC title against Angel Garza and Humberto.
And Finn Balor will be a part of Andre the Giant Battle Royal on the same SmackDown.
Fans reaction to Triple H and the news about his favorite guys!
Now, the WWE Universe is disappointed with the company's decision. Balor and Ricochet will defend their titles on Friday, a night before Saturday-Sunday night WrestleMania.
Fans expected that after the latest SmackDown episode, WWE might book the newly crowned champions on WrestleMania night.
So instead of giving us Balor vs Priest at Wrestlemania, they get placed in a worthless battle royal? Oof….

— JDfromNY (@JDfromNY206) March 26, 2022
However, the company has booked Logan Paul, Johnny Knoxville, and Dominik Mysterio for WrestleMania. So the wrestling fans are furious about the same.
Ricochet isn't even getting a wrestlemania moment just to defend an I.C championship, but Logan paul is getting a wrestlemania moment. 😒

— Tykiyah (@Tykiyah7) March 26, 2022
Or ricochet defending the IC title in a ladder match but yeah let's just have Logan Paul and Johnny Knoxville on the card instead. this company man🤦‍♂️

— Gavin (@gavinwainio) March 26, 2022
Indeed, being a United States Champion and an Intercontinental Champion is a big deal and fans are upset that these superstars are not getting the Mania moment.
There are 2 HUGE problems here:

1. You have a 2 hour kickoff for Wrestlemania, why isn't this on there?

2. Why are Balor and Priest in this, give them a singles match for the US Title at Mania.

— Sam Green (@MrActionSam) March 26, 2022
You could've done a razor Ramon memorial ladder match for mania instead of throwing it away for a quick rating.

— 👑𝔸𝕕𝕒𝕞 𝔾𝕠𝕝𝕕𝕓𝕖𝕣𝕘👑 (@adamgoldberg28) March 26, 2022
Poor Ricochet, while that match would be an awful Mania match, Its not a good sign when you can't even make it on a 2 night Mania card.

— Alan Walshe (@AGamer316) March 26, 2022
WWE has set their matches on next week's SmackDown. Wrestling fans came together because they believe Balor and Ricochet should defend their respected titles at Mania. Two nights of WrestleMania and no room for the US or IC title. That's impossible!
ADVERTISEMENT
Article continues below this ad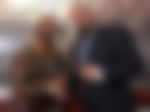 In their early wrestling days, The Game Triple H has seen Ricochet and Finn Balor on the NXT brand. In addition, Balor and Ricochet have shown their worth to Triple H and paved their way to the main roster.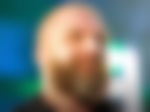 ADVERTISEMENT
Article continues below this ad
It was time that Triple H's students would be a part of WrestleMania as champions, but the WWE clearly did not want that to happen.
Will the WWE have better plans or surprises for Ricochet and Finn Balor at The Stupendous WrestleMania 38?