WATCH: Michael Chandler Walks Out to Famous WWE Raw Theme Song for UFC 262 Fight Against Charles Oliveira
Published 05/16/2021, 7:47 AM EDT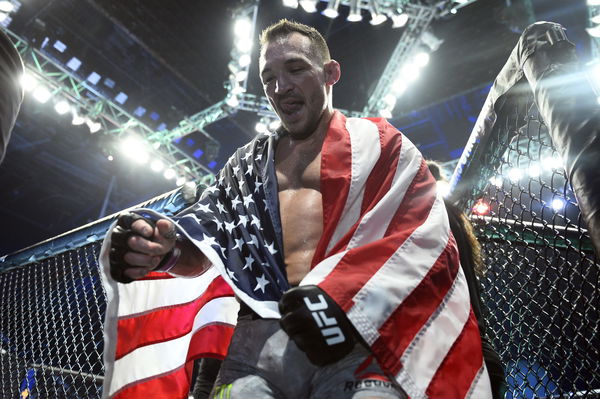 ---
---
An effective entrance is something a lot of fighters hope for as they make their way into the Octagon, and the psychological effect it has on an opponent is an underestimated factor. Michael Chandler definitely wanted to make the most of it as he picked up a familiar soundtrack for his entrance at UFC 262.
ADVERTISEMENT
Article continues below this ad
He walked out to the official theme song of WWE Raw, and fans cheered as they realized the sound of it. Chandler made that entrance he hoped for and showed just how capable he was by backing up with a great first-round performance. 
ADVERTISEMENT
Article continues below this ad
However, the fight isn't over until it's over, and the tide turned against him in the second round as his opponent, Charles Oliveira, took the battle to him with extremely well-timed shots that wore him down. 
The match, unfortunately, did not go in Chandler's favor and Charles Oliveira earned a TKO win, putting his opponent down with his precision. Oliveira, now the UFC Lightweight Champion, is undoubtedly one of the most dangerous men out there. 
However, we mustn't look away from the defeated party just yet as Chandler assured fans he would come back for the title within 12 months. We will have to wait for that moment to arrive, but for now, the lion amongst lions has proven himself as the better fighter.
Charles Oliveira humbled Michael Chandler after an early setback
Charles Oliveira once more demonstrated just how effective Brazilian Jiu-Jitsu can be, especially against a tired opponent who has a limited tank when it comes to reactions.
Although he got hit badly in the first round, Oliveira turned it around in the second round and took it all the way home with relentless pushes at a cornered Chandler.
ADVERTISEMENT
Article continues below this ad
Michael Chandler, however, was gracious in defeat and showed his respect to Oliveira for making it so far in MMA. He also admitted that Oliveira proved himself as the better fighter by coming back from a precarious position in the first round.
ADVERTISEMENT
Article continues below this ad
We can surely expect the two to lock horns again sooner rather than later. Michael Chandler will now come in with everything to win, and we may just see the belt around his waist should he deliver on his words.