"He Could Turn Into Undertaker"- Derrick Lewis Reveals Why He Showed No Mercy After Knocking Out Curtis Blaydes at UFC Vegas 19
Published 02/21/2021, 6:45 AM EST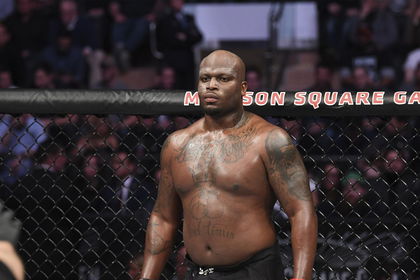 ---
---
Derrick Lewis shocked the world with another brutal Knockout win at UFC Vegas 19, sending opponent Curtis Blaydes to the dust. The decisive uppercut knocked Blaydes' lights out, as he went crashing to the floor. 
ADVERTISEMENT
Article continues below this ad
Even though his opponent was down, Lewis finished the job with two more brutal punches on his defenseless foe before the official interfered. This was yet another dominant display of strength from 'The Black Beast', who tends to dominate his rivals. 
ADVERTISEMENT
Article continues below this ad
However, Lewis pounding Blaydes after the knockout was the biggest talking point of the night. In the post-fight conference, Lewis revealed the funny reason behind his actions. 
"I gotta wait until the referee pulls off because you never know what happens. Anything can happen. He could turn into Undertaker and sit straight up and eat all those shots," joked Lewis. 
Needless to say, the fighter was taking no risks when it came to ensuring victory and wanted to make sure that Curtis Blaydes stayed down. Surely, he is an ardent believer in the 'Double-Tap' logic. 
The Undertaker grew famous for his shocking sit-ups
The Undertaker is one of the most iconic characters to grace the WWE ring. His persona always stayed mysterious with dark undertones behind it, and fans quickly began liking their 'Deadman', who always came back from the grave.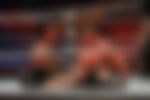 Throughout his illustrious 30 year career with WWE, The Undertaker was known to sit up after taking a sound beating and continue fighting like nothing had ever happened to him. 
ADVERTISEMENT
Article continues below this ad
'The Deadman' would survive the most devastating finishers, astonishing the crowd in the process. This was part of the 'supernatural' aspect of his character and how he was given new life by some other-worldly powers so he could fight again.
Derrick Lewis is undoubtedly a WWE fan since he also imitated WWE legend Triple H's iconic gesture after the knockout win. A D-X gesture was also seen which was cut out in later replays. 
ADVERTISEMENT
Article continues below this ad
People like Lewis learn from observation, and others continue doing the same thing expecting different results. This, of course, is a reference to Superstars that continue sharing beers with Stone Cold in the ring.