"The Era of The Predator Begins"- Dwayne Johnson Shocked After Francis Ngannou Destroys Stipe Miocic at UFC 260
Published 03/28/2021, 9:00 AM EDT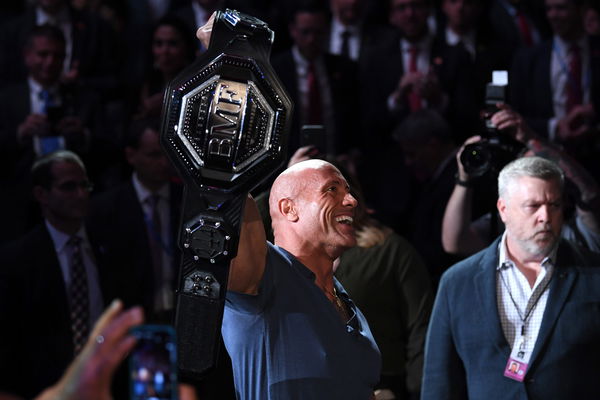 ---
---
Jaws fell to the floor as Francis Ngannou wrecked Stipe Miocic in their bout at UFC 260, dethroning the king to become the new UFC Heavyweight Champion. This victory shocked all Stipe fans around the world; however, many had already predicted this outcome, considering the tear Ngannou had been on.
ADVERTISEMENT
Article continues below this ad
In light of this huge victory, Dwayne "The Rock" Johnson took to Twitter to congratulate Ngannou. He also sent out a message to Stipe Miocic for his lionhearted reign as Champion. 
ADVERTISEMENT
Article continues below this ad
Things got heated right from the beginning as Stipe faced Ngannou for the second time in his career. The two fighters had met before in a match that ended with Miocic winning on points. The second fight impressed the likes of Dwayne Johnson himself.
Francis Ngannou was determined to finish the job this time and had revenge on his mind. With a better reach than Miocic, he stuck to his strengths and played extremely patiently. Ngannou has explosive strength in his arsenal but kept it in reserve for the better half of the match. 
Miocic threw in the early punches but was surprised by the sudden explosive bursts coming in from his opponent. Ngannou struck whenever he saw an opening and truly made every shot count. He wasted no energy and was patiently drawing Stipe out into rash decisions. 
Francis Ngannou unleashed the fury on a worn-down Stipe Miocic
He saw an opening towards the end and landed a hard left into Miocic's head which saw the Champion buckle to the floor. The American got back to his feet but had to withstand the barrage of hard fists from Ngannou, who was unleashing those reserves. 
On the recovery, Miocic caught his opponent with a good jab that made Ngannou fumble just a little bit. Thinking he could capitalize on it, Stipe moved in and let his guard down completely. The next second, he absolutely ate a devastating left hook from Ngannou. 
That was more than enough, and Miocic hit the floor. Ngannou didn't take any chances and made sure his head clattered against the canvas with a decisive hammer fist, ending the fight with a dominant statement. 
ADVERTISEMENT
Article continues below this ad
Miocic was overwhelmed by the raw tank-like power of his challenger and could not hold on as he did in their last encounter. 
ADVERTISEMENT
Article continues below this ad
We now have three African-born UFC Champions- Israel Adesanya (UFC Middleweight Champion), Kamaru Usman (UFC Welterweight Champion), and now Francis Ngannou as the new UFC Heavyweight Champion. Step aside for this new era of dominance.