Vince McMahon Had a "Crazy" Plan for Bobby Lashley – Claims Former WWE Superstar
Published 07/26/2020, 9:13 AM EDT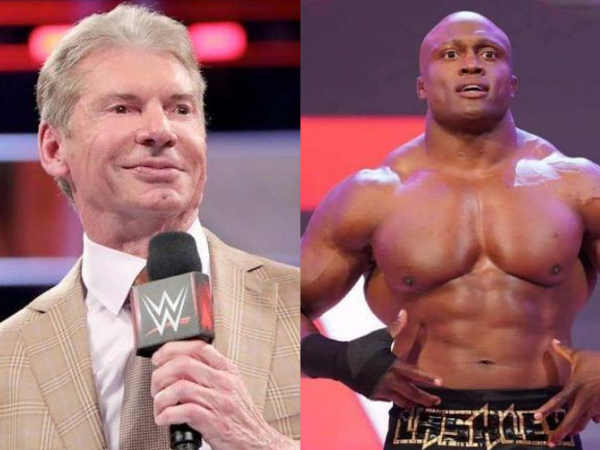 Vince McMahon is famous for his crazy ideas and eccentric pitches. One such idea revolved around the 'Dominator' Bobby Lashley.
ADVERTISEMENT
Article continues below this ad
During a session with Fightful, Lio Rush talks about how crazy it was to know what Vince McMahon wanted from Bobby Lashley. Rush talks about his time in WWE when Elias was using his guitar as a successful weapon.
In fact, even Rush was a victim of the guitar on the ramp. Fortunately, his vest protected him from any puncture from the wood.
ADVERTISEMENT
Article continues below this ad
However, during that time, there was a point when it was known that Lashley will get smacked on his rear-end with the guitar.
Vince McMahon planned Bobby Lashley getting hit by the guitar
ADVERTISEMENT
Article continues below this ad
The interesting part is that out of all the WWE personnel who could pitch this, it was Vince McMahon. Rush reveals how his pairing with Lashley was McMahon's baby. Therefore, he ended up in McMahon's office every week.
"Just because the pairing with me and Bobby, it was his idea. It was literally his project. His little baby. It was his vision. But, to answer your question, on if I talked to Vince. Every week. Every single week I was in Vince's office, listening to what he wanted for that week with me and Bobby. Which is crazy because I've heard people have been in the company for a year, two years, and they've never had a meeting with Vince. I was in his office every week, which was insane."
Furthermore, Rush reveals that experiencing Vince McMahon's crazy stories is much different than hearing about it on podcasts. Vince actually showed exactly how the scene will look like when Lashley gets hit by the guitar from the back.
ADVERTISEMENT
Article continues below this ad
"I would listen to podcasts all the time and hear these crazy stories about Vince and some of the stuff that he comes up with. It just sounded like a comic book or something. But, actually experiencing it live. Like, I'll never forget when he explained the whole he wanted Bobby to start bending over and me pointing at his ass. Like, he reenacted it. He showed us what he wanted and it was so crazy."
Source: Fightful