Vince McMahon had Zelina Vega Escorted out of the ThunderDome Following WWE Release
Published 11/20/2020, 11:44 PM EST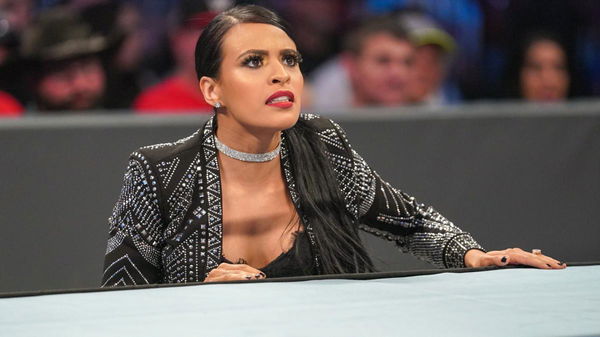 ---
---
Former WWE superstar Zelina Vega's controversial release keeps getting more and more shocking. Zelina Vega opened an OnlyFans account, which went against WWE's new policy. The company has begun cracking down on third-party services.
ADVERTISEMENT
Article continues below this ad
Zelina Vega was escorted out of the ThunderDome
I want to say thank you all very much for the last 3-4 years @WWEUniverse, it was incredible. I would have never have been able to say "this is for you dad" if certain people did not believe in me. I love you all and I couldn't have done it without your support 🙏🏽 pic.twitter.com/R4fI9r64Vm

— 𝓩𝖊𝖑𝖎𝖓𝖆 𝓥𝖊𝖌𝖆 (@Zelina_VegaWWE) November 14, 2020
ADVERTISEMENT
Article continues below this ad
Vega was escorted out of the building, according to the Wrestling Newsletter Observer, as reported by Wrestling Inc. WWE's Senior Director of Talent Relations, Mark Carrano, was the one to break the news to Vega. He even told her that Vince McMahon did not want to see her.
WWE's new policy seems pretty harsh, given WWE Superstars work hard enough in the ring. Competing during a global pandemic must not be easy, and places like Cameo and Twitch became outlets for these superstars.
Zelina Vega was one such Superstar who used the platform. Unfortunately, she had to shut it down after WWE came out with its third party policy. She defied the new policy, and opened an OnlyFans account under a different name, to post her cosplay pictures.
This angered WWE, who immediately fired Vega. The reason for her firing was the OnlyFans account, and not the 'I support Unionization' tweet.
Vega was fired from the company for an alleged breach of contract. Her release was to send a message to the WWE locker room. The release was to ensure that the rest of the WWE locker room would take the new third party policy seriously.
Vega was a very exciting prospect for WWE
ADVERTISEMENT
Article continues below this ad
Zelina Vega impressed Vince McMahon on more than one occasion. Vega's ability to wrestle and be an excellent valet/manager to Andrade had McMahon impressed.
Zelina debuted in NXT as Andrade Cien Almas' new business partner. She led him to the NXT Title, which he won against the current WWE Champion Drew McIntyre. With Vega by his side, he carried the title to Takeover: New Orleans, where he lost the title to Vega's eventual husband Aleister Black.
ADVERTISEMENT
Article continues below this ad
Vega and Almas debuted on SmackDown in 2018, and it didn't take long for the duo to make their mark on the roster. She aimed to make him the best WWE superstar, and under Zelina, Andrade thrived like never before.
Vega's release is disheartening and enraging for WWE fans. She was a bright prospect and a very entertaining Superstar. Since her release, she has made her return to Twitch.