Vince McMahon Used the Rock's Failed Babyface Run as a Mold to Turn Kurt Angle Heel
Published 02/27/2021, 8:33 AM EST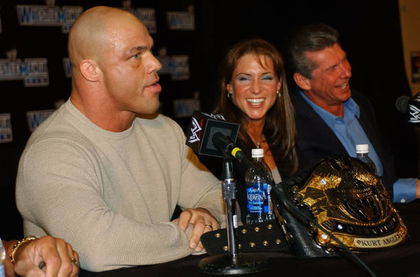 ---
---
Kurt Angle was the one of those superstars that had everything. The Olympic Gold medalist was a phenomenal athlete, a good talker and an entertainer of the highest quality. Hence, Vince McMahon trusted a process with which Angle would get more over with the fans. In an era where white meat babyfaces were booed, McMahon molded Angle into the character we know and love today.
ADVERTISEMENT
Article continues below this ad
Vince McMahon used a familiar process to turn Kurt Angle heel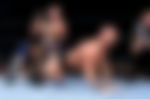 ADVERTISEMENT
Article continues below this ad
Debuting in 1998, Kurt Angle quickly became one of the least-liked characters on television. His catchphrase of 'Intensity, Integrity, and Intelligence' made the fans heckle the Olympian, rendering him a failed babyface experiment. However, Vince McMahon had executed a genius move.
On the Kurt Angle show, the Hall of Famer explained how Vince McMahon molded Angle into a heel.
"You know, you know, my character in WWE when I started? It was a bit, you know, white meat baby face, but it was there was that little thing where you were like. Is this guy for real? Is he is he feed me bullshit? Or if he or is he the real deal?"
"It was Vince's idea to have that and, you know, when The Rock was trying to be a baby face the first time and it backfired. Vince used the same mold for me. But he knew it was gonna backfire on me. He didn't know it's gonna backfire on The Rock. So he used that same mold to make me who I was. And it worked extremely well. I became the top heel in the business within my first year."
According to Angle, Vince predicted the crowd's turning on Angle and used it to his advantage. If this doesn't prove McMahon is a sports entertainer, we don't know what will.
Angle loved being a heel
ADVERTISEMENT
Article continues below this ad
Kurt Angle was a lovable goof, a blood-thirsty suplex machine, and even a great heel. In his various rivalries against The Rock, Triple H, Steve Austin and Brock Lesnar, Angle used a variety of means to win matches. On the podcast, however, he claimed he loved being a heel.
"I love the crowd booing me and you know, not respecting me and I love you know, having these matches and cheating the win and preaching that I don't cheat to win. You know, it was a really cool thing to do. And, you know, I was a bit overwhelmed my first year."
Within his first year in WWE, Angle won the Intercontinental, European and WWE Championship, making it one of the best rookie years in wrestling history.
ADVERTISEMENT
Article continues below this ad