Vince McMahon's Unbelievable Reaction to AJ Lee's WWE Departure Despite Her Husband CM Punk's Strong Words for Him
Published 06/03/2022, 11:00 AM EDT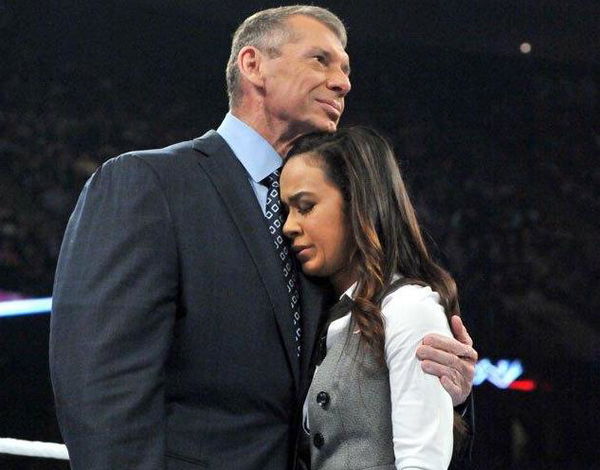 Over the years, Vince McMahon's WWE has been very keen on keeping the best pro wrestlers in the company. If any WWE superstars do not fulfill in that case, Vince McMahon doesn't keep them in the company.
ADVERTISEMENT
Article continues below this ad
One of the greatest feuds between the boss and an employee was between Vince McMahon and the current AEW World Champion CM Punk. Back in 2014, Mr. McMahon fired CM Punk from WWE for his strong words towards him.
ADVERTISEMENT
Article continues below this ad
However, Punk's wife and former Divas Champion AJ Lee also retired from the company a year later. But, Mr. McMahon treated Punk's wife, AJ Lee, differently from the punishment he received.
What was the reaction of Vince McMahon to AJ Lee's exit from WWE?
When AJ Lee departed from WWE, Mr. McMahon greeted her nicely. However, many imagined that the WWE boss might ill-treat AJ Lee because of CM Punk's infamous pipe bomb on him. Well, in Punk's rebellious pipe bomb, he laid smack on Mr. McMahon and his family.
Even after this incident, the WWE boss did not avenge his anger on his wife AJ Lee when she left the company. AJ Lee appeared on the latest episode of the 'Sessions with Renee Paquette' podcast and revealed what Vince McMahon told her about her exit.
Lee said, "He [Vince McMahon] was very kind. He was like, 'The Door's always open if you want to come back.' I know it's different for some people, but to me, it was so important to go out on top on my own terms. There are a lot of people who get buried in there at the end, and I got like WrestleMania and go."
Watch This Story:- Lashley Tables His WWE Hell In A Cell Contract Signing: Top Moments Of WWE Monday Night RAW
The former WWE Divas Champion felt like it was the right time and way for her WWE exit. In addition, Vince McMahon mentioned she could come back whenever she wanted to. There wasn't anything else that Lee wanted from Mr. McMahon, but a warm farewell. Indeed, she got one!
WWE boss did not let CM Punk's behaviour affect his decision on Punk's wife's departure!
'Best in the World', CM Punk and his wife had a very different experience when they departed from WWE. But, of course, Punk always felt that Mr. McMahon never appreciated his time in the company.
So, in his infamous pipe bomb, 'The Voice of the Voiceless' called out John Cena, Dwayne "The Rock" Johnson, and Hulk Hogan as "a** kissers" of WWE boss.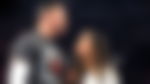 ADVERTISEMENT
Article continues below this ad
Thus, Punk's farewell from WWE was not on good terms. In contrast, they gave AJ Lee a WrestleMania spot before her departure. Furthermore, Mr. McMahon was very kind to mention that Lee was welcomed back anytime she wanted, unlike her husband.
"It was like go fly; I appreciated that. I can't speak for anyone else's experience with him [Vince McMahon]. To me, it was exactly what it needed to be," AJ Lee added.
ADVERTISEMENT
Article continues below this ad
For the former WWE Divas Champion, everything felt perfect and tied up in a bow when she resigned from the company. Fortunately, neither Vince McMahon nor Lee let CM Punk's relationship come in between the two. Hence, AJ Lee and WWE ended on good notes!