"Vince Was Really Remorsefully Sorry"- Mark Henry Recalls a Heated Backstage Altercation With Vince McMahon
Published 07/01/2020, 4:51 PM EDT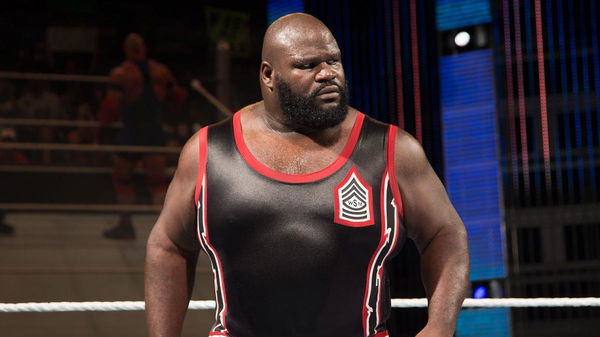 ---
---
In a recent interview, WWE Hall Of Famer Mark Henry revealed that he was very close to quitting after Vince McMahon played a big prank on him.
ADVERTISEMENT
Article continues below this ad
He claims that this would have been the last straw for him on another occasion.
Mark Henry openly spoke about this on Steve Austin's "Broken Skull Sessions" and recalled the entire chain of events clearly.
ADVERTISEMENT
Article continues below this ad
"Mostly, it was Vince's idea. The Hall of Pain started with a rib. To go back to the beginning of my career, Vince always ribbed me," reveals Henry.
"He took me out into the ring and told me I was going to have a match against Sin Cara. I'm standing there in the ring, nobody comes."
Confused, Henry looked around and tried to find an answer for the delay. 
"I go to the referee Scott Armstrong and go, 'Where is he?' They told me [they're re-wrapping his knee]. Now I'm pissed. If Sin Cara were to come out, I was going to hurt him because I felt like he was disrespecting the business," says Henry. 
"Now, I'm pissed. I come to the back, it's a ghost. Nobody's there and I just started destroying things and tearing shit down, punching the walls. Like Darth Vader, I just wanted everything to melt," Henry said.
This plucked a deep nerve in Henry and he had had enough of the company. He was ready to call it quits on his career after the prank.
The prank on Mark Henry did not go as planned
"I start calling Vince, telling him I quit, nobody ribs, I'm a grown-ass man, yada yada," says Henry. "My wife when I come home says, 'You can't quit. You got bills to pay.' Vince calls and says, 'Man, why did you get bent out of shape for? We were just playing.' I said, 'I love this business, I respect you and I feel like I opened myself up for you to disrespect me. Obviously you don't respect me and you don't fear me. So we don't need to talk anymore.'"
Vince McMahon instantly realized that Henry had taken it seriously and that his prank was a step too far. He realized the intensity of the situation he was in.
"Vince was really remorsefully sorry," reveals Henry. "He was like, 'Don't quit. You are too valuable to us. You just got too much left to stop.' I said I can't go through that again. Vince said, 'Okay, but can I show you something?'"
"He showed the footage of me in the ring angry and me coming to the back and the camera cuts off. He's like, 'That's the most visibly afraid he's been on screen in years.' He said, 'If you could do that in the ring, we're going to make a lot of money,'" says Henry.
ADVERTISEMENT
Article continues below this ad
Vince McMahon played a prank at the wrong place and at the wrong time in Henry's life. However, he quickly cleared it all up and apologized to a frustrated Henry. 
Henry went on to win the World Heavyweight Championship through his Hall Of Pain persona and was for a while the most dominant force in WWE.
ADVERTISEMENT
Article continues below this ad
Vince McMahon will know better than to prank him the next time the two meet.