"He Was Down for It"- Wade Barrett on Facing Football Legend Wayne Rooney at WrestleMania
Published 11/06/2020, 1:04 AM EST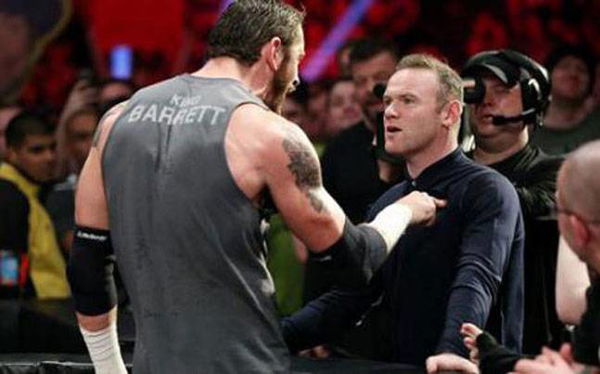 ---
---
Former WWE Intercontinental Champion Wade Barrett recalled a famous incident with Manchester United legend Wayne Rooney. In 2016, Rooney had visited WWE's annual weekly episode in the UK.
ADVERTISEMENT
Article continues below this ad
Barrett is a loyal supporter of the Preston North End Football Club who faced Manchester United in a FA cup match in 2016. In that match, Rooney scored an 88th-minute penalty to seal the game for his side.
"At this point, I'm heartbroken. I immediately in my anger, tweet Wayne Rooney accusing him of diving, threatening to give him a Bullhammer'. 'Then I put my phone down, I move on, calm down, forget about it."
ADVERTISEMENT
Article continues below this ad
Wayne Rooney took to Twitter later to challenge Barrett to a WrestleMania match. Unfortunately, those ideas died down.
"He ends up replying, this goes into a kinda jokey back and forth where we're going to have a WrestleMania match, but then obviously it all dies away and nothing happens."
The confrontation between Wayne Rooney and Wade Barrett did take place. However, there was 'bad news' for the former Nexus leader.
Wayne Rooney slapped Wade Barrett on Monday Night Raw
ADVERTISEMENT
Article continues below this ad
Sometime after that incident, Wayne Rooney wanted to visit WWE's weekly show in the UK as one of his sons is a big WWE fan. Rooney wanted to come backstage with his son to meet Triple H and others when the planning for the confrontation happened.
"I start suggesting to the guys in the management team. He wanted to come backstage with his kid, and meet Triple H and a few others. 'They brought me into the room too, we had a quick chat and suggested this idea to him. He was down for it, his kid was really excited about it. We did what we did – had a little jaw-jack, I talked a little smack like I tend to do, and he slapped me! That was it, it was a lot of fun."
ADVERTISEMENT
Article continues below this ad
This happened back in the day; however, we would love to see something like this after the Pandemic with Wade Barrett back and WWE targeting the UK market. Unfortunately, Barrett said in an interview he is done with in-ring action and prefers to stay out of it.