WATCH: Brawl Breaks Out on WWE NXT as Jake Atlas Assaults Legado Del Fantasma
Published 11/12/2020, 1:06 AM EST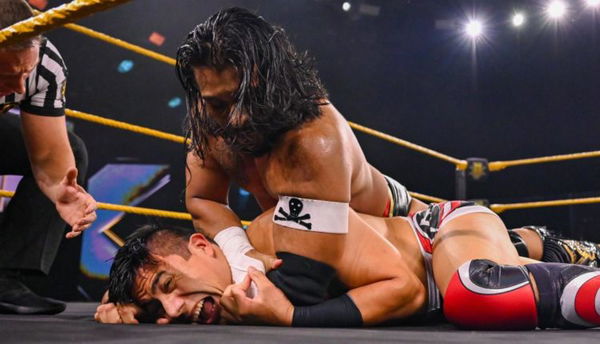 ---
---
NXT's Jake Atlas has been on a mission to diffuse Legado Del Fantasma's power in NXT. The trio of Raul Mendoza, Joaquin Wilde and NXT Cruiserweight Champion have been running roughshod over the NXT locker room.
ADVERTISEMENT
Article continues below this ad
Jake Atlas targets members of Legado Del Fantasma
ADVERTISEMENT
Article continues below this ad
Atlas was the latest to challenge for Escobar's NXT Cruiserweight Championship. After putting away Isiah 'Swerve' Scott and Drake Maverick, the former El Hijo del Fantasma found his newest challenger.
However, Atlas needed to overcome the three on one odds that were stacked against him. In the run up to his eventual match for the title, Atlas started taking out Escobar's henchmen, until the champion stood alone.
Last week, he took out Raul Mendoza, and his next target was Joaquin Wilde. He struck him in the midsection with a steel pipe which seemed enough to incapacitate him temporarily.
This week, he faced the NXT Cruiserweight Champion with the title on the line. Escobar's henchmen were with him but were more or less ineffective after being injured by Jake Atlas and his trusted lead pipe.
NXT Cruiserweight Championship match
The two fought an incredibly aggressive match. Both men added some spice to common moves, transitions and even rest holds. The neck became a target for both men, as they relentlessly targeted each other's necks.
Atlas kept up with his vicious attitude and almost put Escobar away with a series of flash pins. Escobar was only just managing to kick out of the pinfalls. A second longer, and there would be a new face of the Cruiserweight division.
Atlas was great in this match, and put up a strong fight against the much more experienced Santos Escobar. Atlas rallied towards the end, but Escobar managed to put him away with the new move called the Legado.
Escobar managed to put Jake Atlas away
ADVERTISEMENT
Article continues below this ad
Escobar debuted the new finishing move at NXT Takeover 31 to beat the ever-resilient Isiah Scott. It is essentially an underhook shoulder-breaker, but Escobar delivers with such a snap that it resembles a piledriver, which is banned in WWE.
ADVERTISEMENT
Article continues below this ad
Escobar retained the title and will likely move on to a new challenge. Jake Atlas is a blindingly talented wrestler and a great future prospect for NXT. He will most likely go on to do great things, unless WWE and NXT decide to pull out the rug from under him.