WATCH: Cody Rhodes Explains Why The UnderTaker is a God to him
Published 09/02/2020, 11:57 AM EDT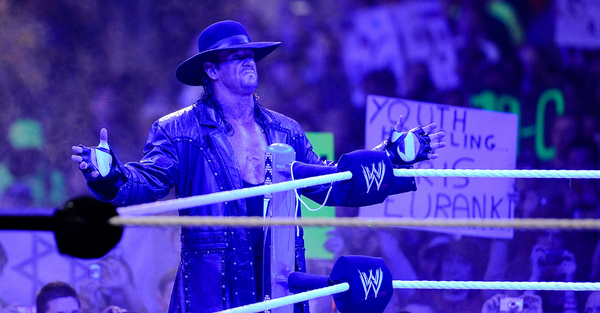 ---
---
Each year, thousands of wrestlers step inside the squared circle, hoping to make an impact. However, only a few can manage to make a name for themselves. Apart from making a name for themselves, wrestlers need to "perform" well for the camera, making sure everything and everyone looks plausible. For all these reasons mentioned, The Undertaker is considered a hero. Going a little further, Cody Rhodes called him "God."
ADVERTISEMENT
Article continues below this ad
Cody Rhodes recalls amazing Royal Rumble memory with The Undertaker
During an interview with Inside The Ropes, Cody looked back at his first Royal Rumble in 2018. Apart from a pep talk from CM Punk, what surprised Cody the most was how cooperative Undertaker was with him.
ADVERTISEMENT
Article continues below this ad
After the Deadman entered the Rumble, Cody felt like this could be his moment.
"I feel the camera on me and I can see myself on the screen. I see Undertaker in the corner, I thought….f**k it. I'm gonna do it. I go over and I hit this man as hard as I've hit anyone in the back of the head. I felt him stop. [He does the slow head turn]. I'm the bad guy now."
As he slowly moved away, Undertaker grabbed him for a chokeslam. But things took a different turn.
"I think I'm going up. He says, 'kick me in the knee.' I kick him in the knee, he lets his hand go. And he goes, 'dropkick me.' I jump up, dropkick him, HE TAKES A BUMP! You can see…I didn't know what to do. The goal is to get the guy out of the match, but I'm not gonna pick him up. So I just go over to the corner and start fake punching somebody."
After this incident, Cody's respect for Taker grew.
ADVERTISEMENT
Article continues below this ad
See the video below –
"….after that, Taker was God to me. Everything about this guy is about giving back. He absolutely did not need to do that. Plus, I stiffed the hell out of him. I love Undertaker."
ADVERTISEMENT
Article continues below this ad
Before Cody, various wrestlers have said Undertaker is one of the easiest wrestlers to work with. Despite his colossal size and terrifying moves, he always makes sure his opponent does not get injured in the match.
Indeed, The Undertaker is an icon in every aspect of sports entertainment and wrestling.