WATCH: John Cena Embraces Former WWE Rival Rusev aka Miro at Suicide Squad 2 Premiere
Published 08/03/2021, 2:58 AM EDT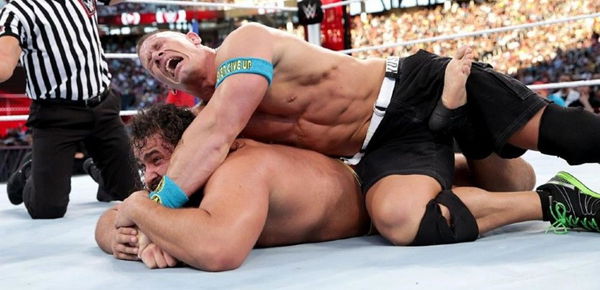 ---
---
Former in-ring opponents, Miro aka Rusev and John Cena, met each other outside the ring during the premiere of Cena's upcoming film – The Suicide Squad 2.
ADVERTISEMENT
Article continues below this ad
The movie will be released later this week, on August 5, and will be available to stream on HBO Max. The movie is about the government sending the most dangerous supervillains in the world to fight against an inevitable bigger supernatural threat.
Cena plays the role of 'The Peacemaker', who kills people to maintain peace. What's wrong with it? The Peacemaker does not think twice before killing innocent people in the name of peace.
ADVERTISEMENT
Article continues below this ad
John Cena is back in WWE full time, which means he is most likely to fight superstars before getting his hands on Roman Reigns at SummerSlam PPV.
One more significant thing about Cena is, even though he is back full time, he still finds time to make TV appearances with his co-stars outside of WWE to promote his upcoming project.
Watch this story: John Cena to Brock Lesnar: Six WWE Superstars Who Dared to Mock The Undertaker
In a tweet, we can see Cena at The Suicide Squad: 2 Premier, in his full comic costume which is hilarious. Cena bumps into Miro, best known as Rusev from his time in WWE.
The two gentlemen greet each other with a smile, like long-lost friends, and chat for a while. Although it is not audible, it seems like Cena is introducing his wife Shay to Rusev. The two men then share a hug before moving on.
It was clearly a feel-good moment, seeing two wrestlers from different promotions still meeting and wishing well for each other. Honestly, that is what the wrestling fans love to see.
John Cena and Rusev wrestled at WrestleMania 31
Back when the two wrestlers worked under the big roof of WWE, Rusev and John Cena would feud over the United States Championship and it was their rivalry that elevated the status of that Championship.
ADVERTISEMENT
Article continues below this ad
The two gems fought at the Grandest Stage of Them All to settle their rivalry, where Rusev made his entrance on a Tanker!. The match itself was one of the best matches in the title's history.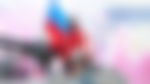 Cena and Rusev fought an 'I Quit Match' on an episode of Raw which was another stellar performance from both the athletes.
ADVERTISEMENT
Article continues below this ad
It's nice to see that they still have the same respect for each other even though they work for different promotions now.