WATCH: John Cena Ends Umaga's Iconic Undefeated Streak in an All Time Classic Match at New Year's Revolution
Published 01/01/2021, 10:27 AM EST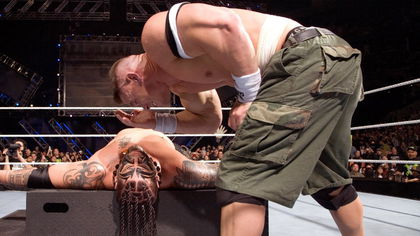 ---
---
Umaga was a wrestler who had a lot of potential that the world couldn't see as he passed away at an early age of 36 in 2009. Despite his untimely death, Umaga gave fans a memorable time during his run of dominance in the WWE. His iconic matches with John Cena and Jeff Hardy were the highlights of his career.
ADVERTISEMENT
Article continues below this ad
John Cena gives Umaga his first pinfall loss
WWE built Umaga as a force to be reckoned with from the get go as he made his debut in April 2006. He went undefeated for the rest of 2006, defeating the likes of Triple H, Shawn Michaels, Kane, and John Cena.
ADVERTISEMENT
Article continues below this ad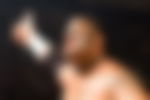 There was nobody who could contain Umaga except for his manager Armando Alejandro Estrada. After defeating almost everyone on the Raw roster, Umaga set his sight on John Cena's WWE Championship. His resume over the year was too impressive, and he became the #1 contender.
Umaga and John Cena then faced off at the New Year's Revolution PPV. The match was super exciting because it wasn't your typical John Cena babyface and heel match.
Umaga legit looked a monster in this, and none of Cena's offense bothered him. In fact, Umaga's offense on Cena added to his dominance and made fans rally behind the WWE Champion.
Throughout the match, John Cena tried his best to get on the offensive, but Umaga was no easy competitor to beat. Every time Cena went for the Attitude Adjustment, Umaga's weight would become too much for him to handle. Overall, it was a perfectly booked match between a monster heel and a top babyface.
ADVERTISEMENT
Article continues below this ad
The commentators, Jim Ross and Jerry 'The King' Lawler, added more to the match with their little details and storytelling. In the ultimate moments, Umaga laid John Cena in the corner and ran in full speed to crush Cena. 'The Champ' quickly used his feet to stall Umaga's attack and quickly rolled him up for the pinfall victory.
The victory definitely ended Umaga's winning streak as it would be the first time that he had ever been pinned. But that did not end their rivalry there as both men would face each other in an epic Last Man Standing match at the Royal Rumble.
ADVERTISEMENT
Article continues below this ad
The landscape of WWE surely would've been different if Umaga was still alive. Either way, his legacy is something that we fans will cherish forever.