WATCH: John Cena Raps his Iconic Entrance Song with NBA Legend Shaquille O'Neal
Published 12/08/2020, 8:15 AM EST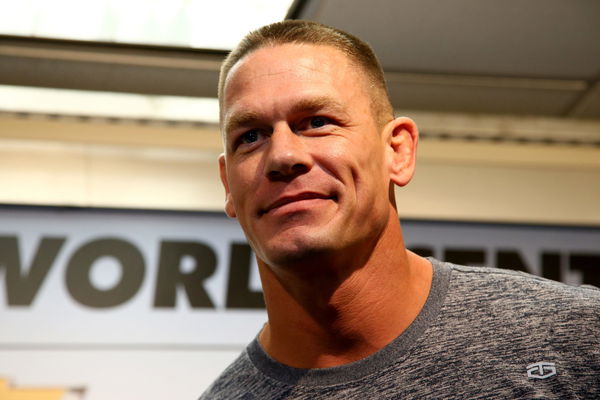 ---
---
John Cena knows how to impress, whether it is inside the ring or outside. While everyone knows what he is capable of inside the ring, a blast from the past is evidence of Cena's lesser known talents.
ADVERTISEMENT
Article continues below this ad
In an episode of Carpool Karaoke, Cena raps his theme song 'My Time is Now' to perfection. He does not miss a word, a beat, or even a drop. This is the epitome of dedication to one's in-ring character.
ADVERTISEMENT
Article continues below this ad
Let's be honest – it's difficult to rap even if you know the words. Cena definitely knowns how to keep his audience entertained, even when he is outside the ring.
The icing on top was basketball legend, Shaquille O'Neal, who was on the driver's seat, giving him an assist with the different beats once in a while.
John Cena had expressed the joy of being in the same car as Shaquille O'Neal. In fact, anyone who views the video will agree to what John Cena had to say about the situation.
John Cena is a New York Times Best-Selling Author
The pro-wrestler is not just a man who can rap, but also one who can write. The 16-Time WWE Champion recently published his latest book.
This book is targeted towards the younger generation where he is urging them to move forward with goals, aspirations, and motivation. Cena is quite the wiz in connecting with young readers. He understands what the demography enjoys reading and writes books that are fun to read with colourful illustrations.
Previously, Cena had published a book called Elbow Grease. This was aimed at children. One fine day, he took to Twitter to let his audience know that the book had gained the number one position on the Best Sellers list. This is how he became one of New York Times' Best-Selling Authors.
The pro-wrestler comes with another talent
ADVERTISEMENT
Article continues below this ad
Writing is not where John Cena's outside-the-ring talents end. The man has proven himself as an actor, too.
He has been in movies such as The Suicide Squad, Daddy's Home 2, and even the Transformer Series Spin-off, Bumblebee.
One of his well-known characters among children is his voice for Ferdinand.
ADVERTISEMENT
Article continues below this ad