WATCH: Mark Henry Powerslams Sheamus through a Metal Barricade at SummerSlam
Published 08/17/2020, 8:00 AM EDT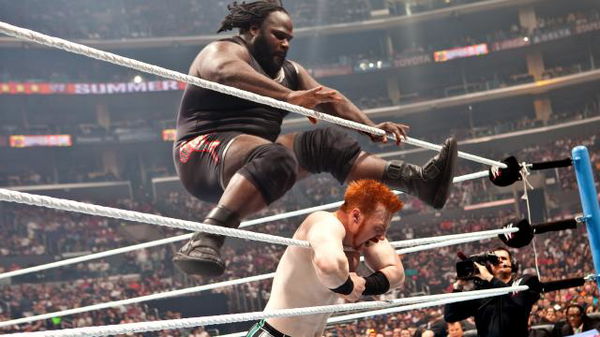 ---
---
SummerSlam 2020 is coming in hot and a lot of mouthwatering clashes have been announced. SummerSlam is arguably one of the biggest PPVs after WrestleMania and is a point at which many storylines climax. The rich history of this PPV is filled with memorable matches and moments. One such match took place back in 2011 when Sheamus took on Mark Henry.
ADVERTISEMENT
Article continues below this ad
2011 was the year of Mark Henry. "The World's Strongest Man" was dominating WWE and was on a rampage of his own. After settling a major feud against Big Show, Henry proved that he was the dominant giant in the business.
ADVERTISEMENT
Article continues below this ad
He then got caught into the snares of Sheamus. Looking to put an end to Henry's reign of terror, "The Celtic Warrior" set out to finish him at SummerSlam.
Mark Henry had the physical advantage
The two made their entrances and Sheamus unsurprisingly got the bigger pop. Standing at 6'6", Sheamus had a bit of a height advantage over a 6'4" Mark Henry.
This mattered little because Henry weighed an impressive 398 pounds at the time compared to Sheamus' 272. Henry also had a 64-inch chest width that allowed him to lift enormous weights easily.
This proved true because the match saw Henry tossing Sheamus around. "The Celtic Warrior" had no answer for this brute force, and Henry made the 272 pounds seem like nothing.
Michael Cole was absolutely petrified of Henry! When "The World's Strongest Man" came out of the ring with Sheamus, Cole immediately got up from his chair and prepared to flee in case Henry got any commentary table ideas.
Sheamus managed to gain some momentum by finally flooring Henry. A big knock on the head did the job.
However, Henry found Sheamus hanging on the middle rope and unleashed his entire weight on him by jumping directly onto the back of Sheamus.
Sheamus failed to capitalize on the Brogue Kick
Sheamus managed to counter a World's Strongest Slam into a devastating Brogue Kick, but Henry fell out of the ring, much to Sheamus' disappointment.
When he went out to pick up Henry, he was caught off guard by a rage powered opponent. Lifting him up, Henry ran Sheamus into a pole, before slamming him straight through one of the crowd barriers!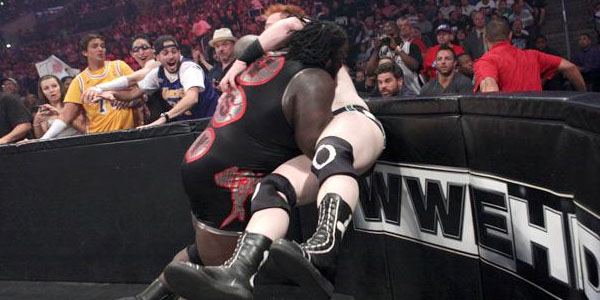 The audience was in shock as they got to see the action up close and personal. Henry then stood up and cheekily made his way back to the ring. Sheamus struggled and tried his best but couldn't make it back by the end of the count.
ADVERTISEMENT
Article continues below this ad
While this match may not have ended in the same fashion that the crowd would have wanted, Sheamus would meet Henry again for a SummerSlam rematch.
Here he managed to defeat Henry in the same cheeky way, by leaving him helpless outside the ring. Henry would anyway go on to wreck Sheamus and continue his unbeaten run.
ADVERTISEMENT
Article continues below this ad
This match may not be 'legendary' but is still fun to think about, given the battle between sheer strength and athleticism. This one will undoubtedly go down as a classic.