WATCH: MMA Legend Ken Shamrock Trolls Kurt Angle, Teaches Him How to Apply the Ankle Lock
Published 05/09/2021, 9:00 AM EDT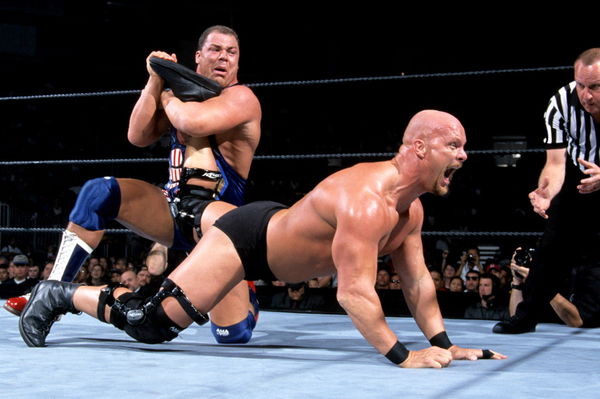 ---
---
The Ankle Lock is one of WWE's most devastating submission maneuvers. Ken Shamrock introduced it to the WWE when he debuted, but Kurt Angle made it famous. Superstars like Jack Swagger and Daniel Bryan would use the move, but none used it more effectively than its innovator.
ADVERTISEMENT
Article continues below this ad
Ken Shamrock takes a friendly dig at Kurt Angle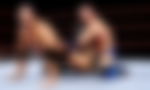 ADVERTISEMENT
Article continues below this ad
Despite popular belief, the innovator of the Ankle Lock wasn't Kurt Angle. While he popularised it and added his own quirks to it, the innovator of the submission move is Ken Shamrock.
Shamrock is an MMA legend and a former UFC Champion. He joined WWE in 1997 and is a former Intercontinental Champion.
Despite his invaluable contribution to wrestling, fans do not regard him as the innovator of the Ankle Lock. Hence, he demonstrated the correct way to do the move on Chris Van Vliet, a popular wrestling podcaster.
He said, "Kurt Angle, this is the right way to do it," before making Van Vliet cry out in pain.
Although the dig was friendly, Angle and Shamrock never actually faced off in WWE or TNA. Both men had similar paths to WWE and made a name for themselves prior to wrestling. A match between them would've been a classic, but it failed to materialize.
When Angle debuted in WWE, Shamrock returned to the UFC. Angle became a multi-time World Champion in WWE, while Shamrock became the inaugural inductee into the UFC Hall of Fame in 2003.
Angle took the submission move from Shamrock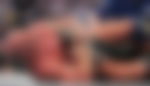 While some may think Ken Shamrock passed the Ankle Lock down to Kurt Angle, the former Olympian revealed he actually stole the move from the MMA legend.
On his podcast, the Kurt Angle Show, the former WWE Champion revealed how the Ankle Lock became an iconic part of his arsenal.
ADVERTISEMENT
Article continues below this ad
"Well, it was me. I was, you know, being a shooter and having the history I did I wanted to come up with a submission hold that I could start using. I knew that Ken Shamrock used the Ankle Lock, and he was gone doing MMA, and I figured I might as well take that."
"You know, Ken Shamrock wasn't upset about it, he actually was very cool about it. Taking his finish and using it helped me dearly. It made me a more credible wrestler and more dangerous." (H/T Inside the Ropes)
ADVERTISEMENT
Article continues below this ad
With the Ankle Lock, Kurt Angle won several World Championships. The biggest names in wrestling, including Brock Lesnar, Stone Cold Steve Austin, Shawn Michaels, and John Cena have tapped out to the move.