WATCH: Nikki Bella Reveals her Post Baby Physique – Sets Major Fitness Goals
Published 09/08/2020, 11:44 AM EDT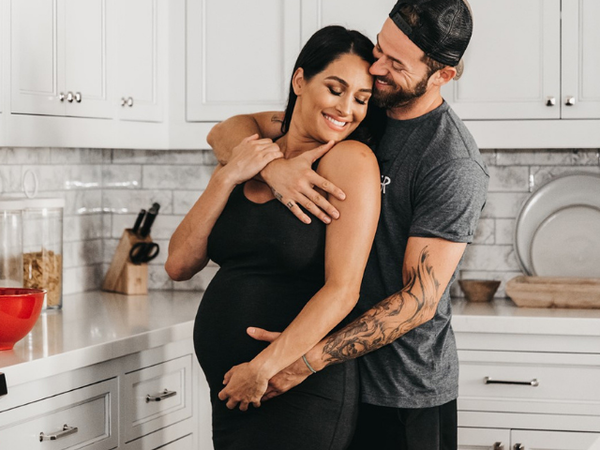 ---
---
WWE Superstar, Nikki Bella, welcomed her firstborn, Matteo, on July 31st with fiancé Artem Chigvintsev.
ADVERTISEMENT
Article continues below this ad
It's been five weeks since her son's arrival. Therefore, she's preparing herself to lose the 18 pounds that she gained during her pregnancy.
ADVERTISEMENT
Article continues below this ad
Nikki Bella embarks upon her weight loss journey post giving birth
In a video on Instagram, Nikki Bella showcased her current physique while explaining the journey she is embarking upon. The idea behind this is to let her followers be a part of the journey in the most realistic way possible.
"I want to bring you all along in the realest, rawest way possible, so here I am. I am 18 pounds away from my pre-pregnancy weight."
She did not shy away from giving her audience a 360-degree view of her physique. In fact, she added that the turn in front of the camera was one of the scariest things she has done.
Now, pregnancy comes with a series of cravings, especially for food. Nikki Bella explained to her followers the way she gave in to her cravings. Nothing she said was an act of sugarcoating. Instead, she made it quite clear that she enjoyed the entire pregnancy period, even when she was gaining weight.
ADVERTISEMENT
Article continues below this ad
"I'm five-weeks postpartum, so maybe not all those pounds are fun. But, the majority are for sure from having a lot of fun."
Moreover, she admitted that during her pregnancy, especially towards the end, there was a significant indulgence in pizzas and baked goods. Considering she had to be home all the time due to the COVID-19 scare, it's understandable that she would enjoy the food items that are essentially not a part of her diet.
"I want to say COVID and being in Arizona with a lot of heart and I didn't get work like I used to, see a personal trainer, and go to classes. But no, I indulged in pizza quite a bit, especially towards the end, and baked goods."
ADVERTISEMENT
Article continues below this ad
Read Next: Dwayne Johnson Reveals Reasons Behind Acquiring XFL from Vince McMahon