WATCH: One of the Most Electrifying Moments in WWE History as The Rock and "Stone Cold" Steve Austin Annihilated Triple H and Rikishi on Smackdown
Published 02/14/2021, 8:45 AM EST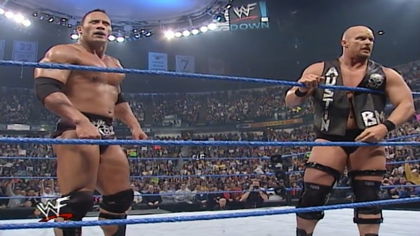 ---
---
The Attitude Era is arguably one of the best eras of WWE. Dwayne "The Rock" Johnson and "Stone Cold" Steve Austin were the prime figures of that time, and each time they came on stage, it was electrifying.
ADVERTISEMENT
Article continues below this ad
Back in 2000, Triple H and Rikishi took on The Rock and Steve Austin on WWE SmackDown. It was 10 days ahead of Survivor Series 2000.
ADVERTISEMENT
Article continues below this ad
In the PPV, the main rivalry was between Triple H and Austin (more on that later), while Rikishi and Rock got thrown in the mix. Ahead of their respective singles matches, the Superstars decided to face each other in a tag team match.
As soon as 'The People's Champ's music hit, he ambushed Rikishi and Triple H. Austin joined him shortly, and as expected, the arena erupted in cheers.
While the faces attacked the heels, The Radiclaz came in to help Triple H. The stable of Eddie Guerrero, Chris Benoit, Perry Saturn, and Dean Malenko attacked Rock and Austin but got beaten up instead. This was a sneak-peek from what would happen at Survivor Series.
What happened between Stone Cold and Triple H in 2000, and how did The Rock get involved?
The feud started one year ago in 1999, when Austin was run over by a truck and was out of action for the year. Later on, he found out that Rikishi ran him down and caused all the misery.
On the November 6, 1999 edition of Raw, Steve Austin found that his "friend" Triple H was the mastermind behind the attack. This revelation ignited a long-running feud between the two.
Coming back to Rikishi and The Rock, they started feuding after Rikishi cost the latter a shot at the WWE Championship. Later on, Rikishi revealed how The Rock knew about the assault on Austin and gave the keys to the truck.
ADVERTISEMENT
Article continues below this ad
Post that, then-WWE Commissioner, Mick Foley, announced The Rock and Steve Austin would face Rikishi and Triple H respectively in singles matches.
Later in the PPV, Rock defeated Rikishi, while the main event between Triple H and Austin ended in a no contest. The feud started a long withstanding and legendary rivalry between the two legends.
ADVERTISEMENT
Article continues below this ad