WATCH: One of The most Iconic Moments in WWE History When Dwayne "The Rock" Johnson Slammed The Mankind Through The Announcement Table on RAW
Published 02/15/2021, 1:59 PM EST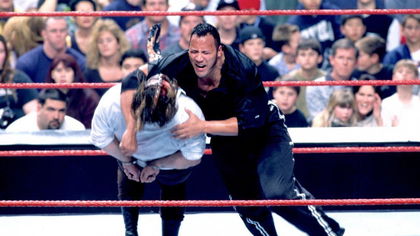 ---
---
WWE and Hollywood icon Dwayne "The Rock" Johnson and WWE Hall of Famer Mick Foley have had quite a wonderful past. The two iconic wrestlers became tag team champions from arch-rivals in one of the biggest swerves in WWE history.
ADVERTISEMENT
Article continues below this ad
The bitter rivalry between the two ended with one of the most popular professional wrestling matches of all time. The February 15 episode in 1999 titled Raw Is War crowned the Rock as a three-time WWF Champion.
The duo engaged in a fierce battle for the WWF Championship. After a grueling fight and interference from a debuting Big Show, the 'People's Champ' triumphed over Mankind to claim his third WWF Championship title.
ADVERTISEMENT
Article continues below this ad
The Rock delivered a Rock Bottom to Foley from the announce table as they both collapsed. Although Rock won the title, he would later lose it to "Stone Cold" Steve Austin at WrestleMania XV.
The Rock Versus Mankind in the "I Quit" match
One of the greatest fights between the two took place just a couple of weeks before the ladder match. The two met on the eve of Royal Rumble for an "I Quit" match, which ended with the Rock completely dominating Mankind.
Although as per norms, one wrestler had to state the phrase "I quit", Mankind was unconscious as he lay in front of the entrance, and therefore, a previous recording had to be played to award the Rock with the victory.
Following the ladder match event held on February 15, 1999, the enmity between the Rock and Mankind ceased to exist. Notably, the Undertaker and Big Show attacked the People's champ during Raw is War. Subsequently, Mankind reached out to help his former rival, and the Rock 'n' Sock team came into existence.
The new tag team defeated the Undertaker and Big Show to take home the WWF Tag Team Championship. On the September 20 episode of Raw Is War, the Rock 'n' Sock Connection won the titles for the second time in a "Dark Side Rules" match against Big Show, Mideon, and Viscera.
ADVERTISEMENT
Article continues below this ad
The Rock 'n' Sock Connection won the tag team titles for the last time on the October 19, 1999 episode of SmackDown. The ultimate victory came against The New Age Outlaws.
Even though they reunited sporadically after their third title, those weren't as successful as their initial stints. However, they remain one of the most talked-about and celebrated tag teams in WWE history.
ADVERTISEMENT
Article continues below this ad