WATCH: The Chilling Moment When The Undertaker Sent Edge Straight to Hell for His Sins
Published 01/15/2021, 10:32 AM EST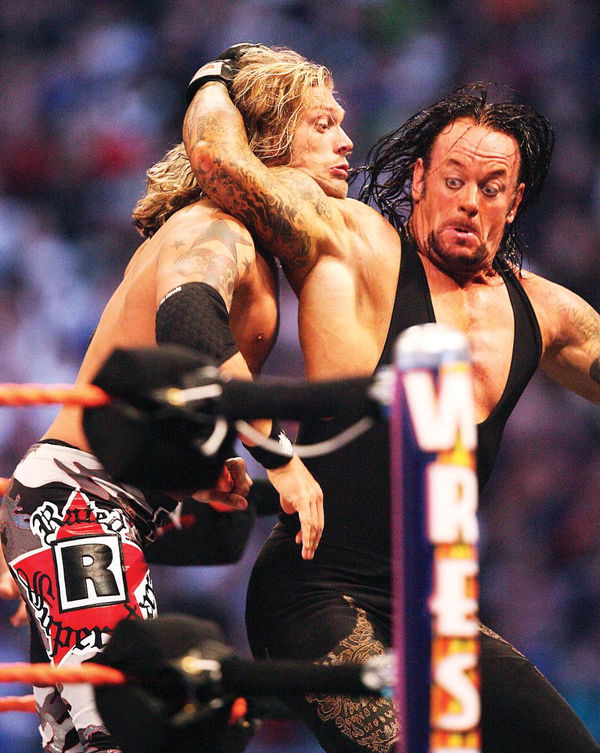 ---
---
The Undertaker's legendary career is full of classic matches, special moments, and some really scary sequences. The Undertaker took a piece of his rival's souls in his three-decade career. Talking about taking souls, no one knows it better than WWE Hall of Famer Edge, who the 'Deadman' sent straight to hell!
ADVERTISEMENT
Article continues below this ad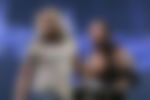 ADVERTISEMENT
Article continues below this ad
The Undertaker sends Edge to hell!
The 'Rated R Superstar' Edge faced The Undertaker inside Hell In A Cell at Summerslam 2008. It was one of the most entertaining and hard-hitting Summerslam/Hell In A Cell matches of all time! So much so, that the action couldn't be contained inside the cell as both men ended breaking one of the cell walls!
The Undertaker prevailed and won the match as Edge laid lifeless. The 'Phenom' walked to the entrance ramp before charging back inside HIAC.
He set up a ladder lying in the ring and placed Edge on it. He then grabbed another ladder and what followed next was something no one saw coming.
The 'Phenom' climbed the other ladder and set himself up for a chokeslam on Edge off the top! The Undertaker viciously chokeslammed Edge from the ladder, sending him right through the ring. Not just that, but he then burned him down as flames erupted out of the hole through the ring.
This was without a doubt one of the most memorable Undertaker moments of all time. This marked the end of his and Edge's long-standing feud that began when Edge interfered in the World Heavyweight Championship match between Batista and Taker at Survivor Series 2007.
Did Edge deserve to be sent to hell?
One would definitely wonder why the 'Deadman' gave Edge such a harsh punishment. Although it is not new for The Undertaker to punish somebody, what had Edge done to burn in the depths of hell?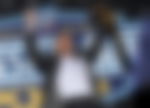 To start things off, Edge cashed in his Money In The Bank Contract on The Undertaker after Mark Henry attacked him following a steel cage match with Batista. He also caused The Undertaker to leave the WWE after winning a TLC Match at One Night Stand 2008.
ADVERTISEMENT
Article continues below this ad
All went too well for Edge as he was about to marry Vickie Guerrero, but he lashed out on her after losing his World Heavyweight Championship. To make matters worse, Triple H exposed Edge's infidelity with Alicia Fox, leaving Vickie furious.
ADVERTISEMENT
Article continues below this ad
Vickie Guerrero then gave Edge the shock of a lifetime when she revealed she had rehired The Undertaker and that Edge would face him in a Hell In A Cell match at SummerSlam. Following a failed attempt at seeking an apology, Edge viciously attacked Chavo Guerrero and threw Vickie out of her wheelchair.
All these factors combined make a powerful case, right? Yes, absolutely! And that is the very reason The Undertaker punished Edge and sent him straight to hell!