WATCH: The Only Time Goldberg Speared Stone Cold Steve Austin in WWE
Published 02/19/2021, 6:23 AM EST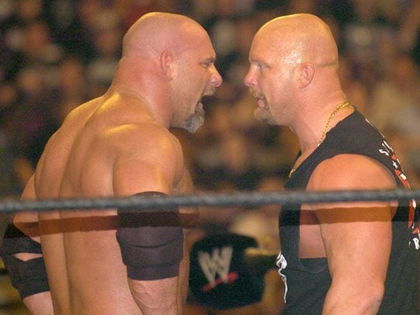 ---
---
Goldberg and Brock Lesnar are two of the biggest behemoths to have ever stepped foot in a WWE ring. Both men have immaculate strength, and we know the carnage they bring inside the ring. Goldberg has decimated opponents with his Spear, and not even Stone Cold Steve Austin has eluded it!
ADVERTISEMENT
Article continues below this ad
The only time Goldberg speared 'Stone Cold' Steve Austin
'The Iconic' Goldberg confronted Brock Lesnar as the latter gloated how no one could beat him. The confrontation wasn't a one-off, as it quickly escalated into the beginning of a major feud at the 2004 Royal Rumble.
ADVERTISEMENT
Article continues below this ad
Brock Lesnar cost Goldberg the Royal Rumble match, which left him fuming. The following night on Raw Goldberg revealed to the world that Brock Lesnar was next!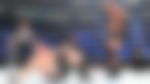 Lesnar's manager and then SmackDown General Manager Paul Heyman appeared on Raw and asked Goldberg to remove the thought of facing Lesnar. He said Goldberg is a small fish in a pond while Brock Lesnar is the shark!
The former WCW Champion had enough, and he snatched a mic from Vince McMahon, who was standing in the ring with Stone Cold Steve Austin. He looked dead straight into Heyman's eyes and said, "Brock Lesnar is next!"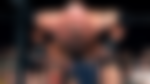 The crowd erupted as Goldberg said Lesnar was next. Heyman got mad and threw a tantrum at the crowd. This was the opening 'The Iconic' one needed! He set himself up in the corner and delivered a rib-cracking Spear to Paul Heyman, sending a loud and clear message to Brock Lesnar.
'The Iconic' one wasn't done there. He also had plans to spear the WWE Chairman and CEO Vince McMahon. Stone Cold was delighted at the sight of Heyman getting speared. He worked the crowd and cracked open his beers, but couldn't enjoy it thanks to a spear.

Goldberg positioned himself for another Spear in the ring corner. Just as both Stone Cold and Mr. McMahon turned, Goldberg charged to deliver a spear to McMahon. Luckily, the WWE Chairman ducked, and the spear broke Stone Cold in half instead.
You thought Stone Cold won't get Payback?
It doesn't matter if it was on purpose or an accident if you attack the 'Texas Rattlesnake.' After costing Lesnar the WWE Championship to Eddie Guerrero, both men would battle it out at WrestleMania XX with Stone Cold Steve Austin as the Special Guest Referee.
He sealed the deal with a spear and a jackhammer, but Lesnar couldn't digest the loss. The 'Next Big Thing' showed Austin a middle finger, and well, someone should've told Lesnar that's not something you do to 'Austin 3:16.'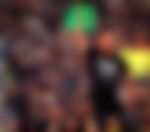 'Stone Cold' immediately kicked Lesnar in the gut and laid him out with his trademark Stone Cold Stunner. After that, Stone Cold and Goldberg celebrated the latter's victory, but not for too long! Austin remembered the accidental spear and delivered payback with a Stone Cold Stunner on Goldberg.
ADVERTISEMENT
Article continues below this ad
Goldberg spearing Stone Cold on Raw, and the latter Stunning him at WrestleMania, are the only two times both these WWE Hall of Famers got physical with each other.
Would you have loved seeing a major feud between Stone Cold Steve Austin and Goldberg in the WWE? Let us know in the comments below!
ADVERTISEMENT
Article continues below this ad