WATCH: The Only Time John Cena Turned Heel in WWE
Published 09/16/2020, 1:22 PM EDT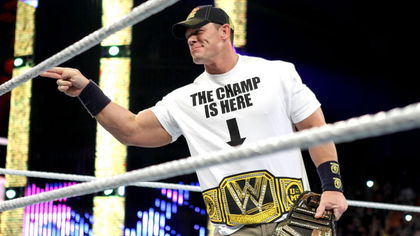 ---
---
As WWE fans, we have seen a lot of shocking heel turns over the years. Some of our favorite Superstars have turned on their best friends or fellow teammates, leading to huge storylines and the like. However, one such turn is that of John Cena, something that no one could ever forget.
ADVERTISEMENT
Article continues below this ad
Cena was live on Raw delivering a promo and was trying to rally the crowd. At the time, Cena was WWE Champion and had his iconic mic moments. 
ADVERTISEMENT
Article continues below this ad
In an effort to raise the excitement, Cena suggested things he should do to improve his character. In the mix of it all, 'The Cenator' asked the crowd whether he should turn heel or not.
This was met with resounding cheers, indicating that they wanted to witness a heel Cena. However, they cheered too fast. The next moment, Cena turned his heel on the ring floor, gesturing that he literally turned heel!
The cheers changed to laughs as the crowd appreciated some good old-fashioned John Cena. When it comes to mic skills, few can claim that they have as much experience and fearlessness as Cena.
John Cena as a heel is a rare and golden phenomenon
John Cena in recent times has never turned heel. He did so only once during his first feud with The Rock. Apart from that, he has been an icon for the good guys.
ADVERTISEMENT
Article continues below this ad
The PG era was led by John Cena, who quickly became the hero to every WWE fan. Unfortunately, people grew tired of his age-old gimmick and wanted him to go back to being the anti-hero.
Cena was the most respected WWE Superstar back in his days as the Doctor of Thuganomics. At any given time, he would pull up wearing a baseball or basketball jersey and chains and drop some of the best rap disses.
ADVERTISEMENT
Article continues below this ad
That Cena was one of the best, and we still get to see him occasionally. Although the crowd is tired of John Cena, we could still use him in WWE. Perhaps he may return as a heel to take the WWE Universe by storm one last time.