WATCH: The Undertaker Indulges in Hunting After WWE Retirement
Published 04/09/2021, 1:14 PM EDT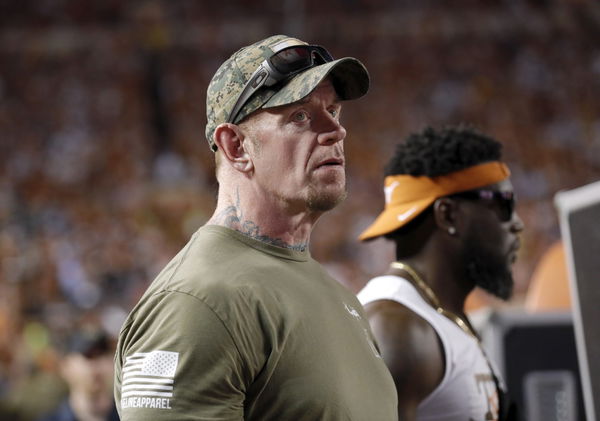 ---
---
Post-retirement life is usually a tough ordeal for wrestlers. From dealing with injuries to pension problems, putting your body on the line pays more than taking it off the line. As for the Undertaker, life post-retirement looks quite fabulous.
ADVERTISEMENT
Article continues below this ad
Undertaker enjoys hunting for turkey
ADVERTISEMENT
Article continues below this ad
Amongst his many hobbies, hunting is one of the Undertaker's favourite pastimes. The Deadman is quite an accomplished hunter, at least that's what it seems like from his recent Instagram post.
Taker posted pictures of his recent trip to Alabama, where he and Tyler Jordan hunted turkey. The Deadman posted pictures of the game he hunted as well as shots of him wielding a hunting rifle. It was a unique but endearing feeling to see one of WWE's most mysterious characters enjoying life outside the ring.
On the Joe Rogan Experience, Undertaker talked about his post-retirement plans. He claimed he's been a great outdoorsman but never found the time to indulge in fishing or hunting.
"I've dedicated my whole life to this business. There'll be times when I help out and maybe mentor some guys, but I've gotta find out what I'm passionate about and still earn a living. Right now my goal is to be the best outdoorsman I can be at this point. I've always loved hunting and fishing and doing all that, I just haven't had time."
What is the Deadman's life like outside WWE?
The Undertaker's life has been a secret for much of his WWE career. He valued kayfabe more than any other wrestler on the planet; hence, his life outside of WWE was mostly under wraps.
While Undertaker enjoys digging holes and claiming souls, Mark Calaway enjoys some earthly activities.
ADVERTISEMENT
Article continues below this ad
Calaway is a collector of various items. His American Bada** persona gave rise to his passion for motorbikes and vintage Harley Davidson's. Another item he collects is guns, which he has proudly shown off on his Instagram page too.
Calaway is also a huge MMA fan and has been spotted at UFC events a bunch of times. He even had an awkward confrontation with Brock Lesnar at a UFC event moments after the Beast lost to Cain Velasquez.
Apart from these, the Deadman also runs a foundation that provides medical help to dogs of larger breeds, called The Zeus Compton Calaway Save the Animals Fund.
ADVERTISEMENT
Article continues below this ad