WATCH: Undertaker Breaks Character – Brawls With His Family in WWE 2K Battlegrounds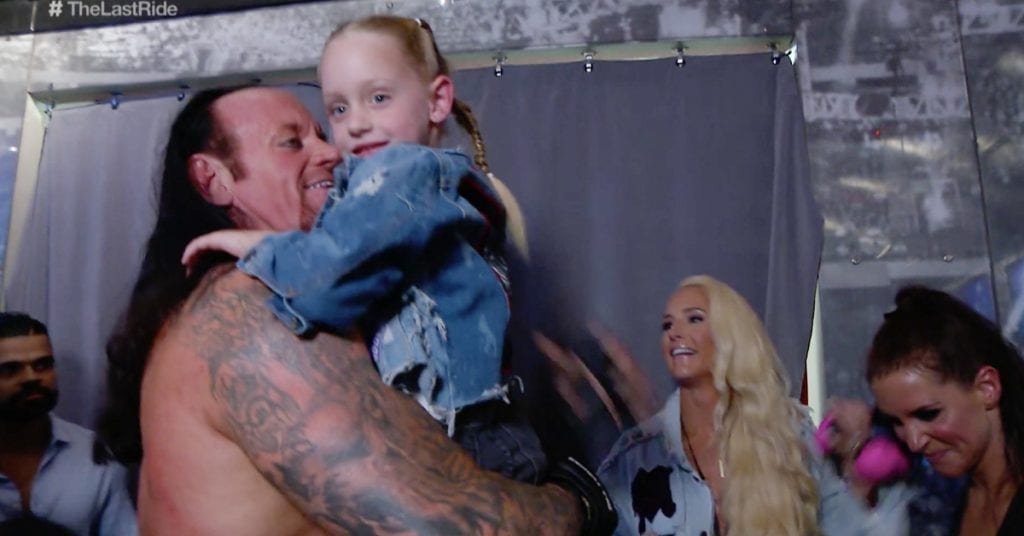 The Undertaker recently gave us another glimpse into his real life. As seen in a newly released promotional video, Undertaker is playing the new WWE 2K Battlegrounds with his family. His wife, former WWE Diva Michelle McCool, appears right next to him.
The Undertaker breaks character in new WWE promotional video
WWE 2K Battlegrounds was officially released today. To commemorate this, WWE released a promotional video with none other than the Phenom and his family.
[youtube https://www.youtube.com/watch?v=0LBZV5PAE9U]
In the video, his daughter Kaia is seen beating the legend in the game. In the end, he says, "Brawl  without limits, "(which is the tagline for the game) followed by his signature line, "Rest in Peace."
I brawled with my family… Now you can brawl with yours. Face me in @2KBattlegrounds. I guarantee you will Rest in Peace. #ad pic.twitter.com/fQRe9MA9Tg

— Undertaker (@undertaker) September 18, 2020
The game is developed by Saber Interactive and available now for PlayStation 4, the Xbox One family of devices, including the Xbox One X and Windows PC via Stream, Nintendo Switch, and Stadia, with cross-platform play available.
WWE said in a statement, "WWE 2K Battlegrounds brings fast-paced action and an assortment of power-ups, special moves, unconventional melee items, and interactive environments to take the brawl to the next level. Players can take on the challenges alone or compete with friends and family on the couch or online in cooperative and competitive multiplayer modes."
A variety of game modes and match types are available in WWE 2K Battlegrounds. It includes King of the Battleground – an online, last-man-standing mode – and Battleground Challenge, the flagship of the game.
WWE 2K Battlegrounds is available in two formats: Standard Edition and Digital Deluxe Edition.
WWE also released other promotional videos that feature former Women's' Champion Alexa Bliss and Hall of Famer Mick Foley.
Earlier this year, WWE considered retiring Undertaker after decades with the company. Although he is still under contract, this advertisement proves the company is moving in that direction.
WWE and Undertaker were very protective of the character. They were careful not to show any "human" side to the "Deadman."
Undertaker never gave any interviews outside of character. So, from a fan's perspective, it is good to see them embracing Mark Calaway rather than The Undertaker.