WATCH: When a Rookie Brock Lesnar Stepped Into the Ring with the Legendary Ric Flair
Published 06/12/2021, 7:45 AM EDT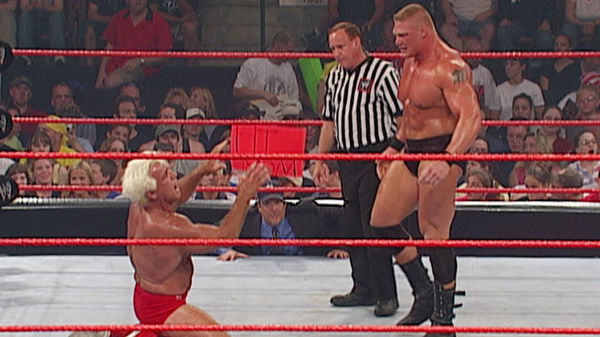 ---
---
A match featuring one of the greatest wrestlers of all time. A multi-time World Champion, a Hall of Famer and a pioneer of sports entertainment. The other man is Brock Lesnar. Ric Flair vs Brock Lesnar unfolded on the July 1st, 2002 episode of Raw, where the rookie Lesnar took on the aged veteran.
ADVERTISEMENT
Article continues below this ad
Brock Lesnar took on Ric Flair in 2002
ADVERTISEMENT
Article continues below this ad
One would expect Brock Lesnar to steamroll past Ric Flair, especially since Flair was 53 at the time. However, for the first few minutes of the match, Flair left the Beast reeling with his signature blistering chops. His brilliant pro wrestling acumen allowed him to take control of the match.
Lesnar's raw power and brute strength would come into play. He launched Flair above the referee while kicking out of a pin attempt, then flattened him with a clothesline. He dominated for a bit, but the wily veteran fought his way back into the match. Flair's chops continued to sting the Beast until the match took a wicked turn.
Realising he couldn't beat Lesnar clean, the Dirtiest Player in the Game resorted to his underhanded tactics and delivered two low blows to Lesnar. But even those couldn't keep the Beast down! He locked in the Figure Four, and Lesnar's manager Paul Heyman climbed onto the apron.
Fighting dirty tactics with another dirty tactic; the distraction worked as Lesnar popped up, nailed Flair with the F5 and picked up a massive win.
Watch this story: OMG Moments from the WWE Ruthless Aggression Era
Will the Beast return to WWE?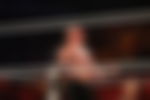 With the return of live tours and fans back in arenas, WWE could pull out the big guns to draw a large crowd. The COVID-19 pandemic made WWE make tremendous changes, and they suffered significant losses as well, and bringing back huge names could reverse their ill fortune.
ADVERTISEMENT
Article continues below this ad
One of those names is Brock Lesnar. We haven't seen Lesnar in a WWE ring since WrestleMania 36, where he dropped the WWE Title to Drew McIntyre. His contract ended in September which led to speculation that he might head to WWE's rival, AEW. With those rumours squashed, there's only one place he could end up.
With SummerSlam on the horizon, WWE could bring the Beast back and pit him against either world champion. A rehash of Reigns vs Lesnar wouldn't be a terrible idea, especially with Paul Heyman's allegiance in question. However, a dream match with the WWE Champion Bobby Lashley would be the perfect match for WWE to make their mark on 2021.
ADVERTISEMENT
Article continues below this ad