WATCH: When a Young Jeff Hardy Earned The Undertaker's Respect on WWE Raw
Published 07/01/2021, 10:30 AM EDT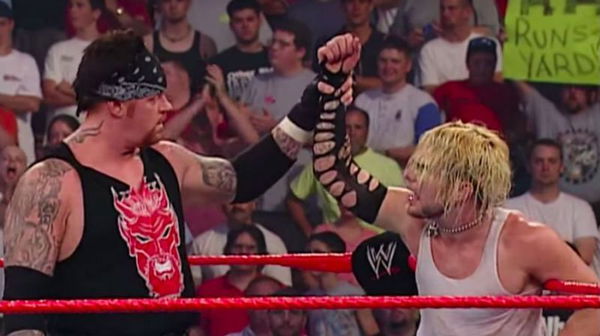 ---
---
'The Charismatic Enigma' Jeff Hardy made a name for himself by pulling off unbelievable stunts inside the wrestling ring. Surprisingly enough, he is showing no signs of stopping even in his mid-40s.
ADVERTISEMENT
Article continues below this ad
Even as Hardy is well-known for starring in some of the greatest matches in WWE history, there is one special match in his vault. In the aforementioned match, The Undertaker broke his character on TV and gave respect to Hardy for their match together.
What happened between Jeff Hardy and The Undertaker?
ADVERTISEMENT
Article continues below this ad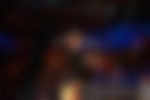 It was 2002, and Jeff Hardy was ready to put his tag-team days behind him. He wanted to establish himself as a legitimate threat in singles matches.
In this pursuit, he would cross paths with none other than 'The Demon of Death Valley', The Undertaker, who was the Undisputed WWE Champion at that time. 'Big Evil' promised Hardy that he'd make him famous like all of his other victims.
Little did Hardy know, that a subtle move of respect from The Undertaker would change his singles run drastically. The match that 'The Phenom' thought would be like a walk in a park turned out to be a highly physical battle.
A young Jeff Hardy really made Undertaker struggle to win the match.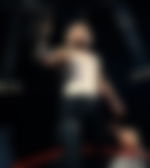 There were times when Hardy almost had the belt in his grasp, but the Deadman would always stop him in his tracks. Jeff hit his opponent with countless innovative moves but just couldn't keep the big guy down.
Hardy earned Undertaker's respect
Undertaker eventually won the match and was on his way back to the locker room when a half-dead Jeff called him. Jeff would say that he's not done, and The Undertaker couldn't keep him down.
Listening to this, Undertaker returned to the ring furiously to hit the young man, but he raised his hand out of respect and acknowledged his grit with a little tap on his shoulder.
The fans loved this reaction from the legend and this subtle move of respect solidified the young Hardy. This moment made Jeff Hardy a bonafide star going forward.
Undertaker shares his thoughts on his match with Jeff Hardy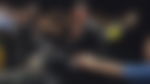 After his retirement, Undertaker talked to talkSPORT about the time when he competed in his one and only Ladder Match against Jeff Hardy and how that match turned the young kid into a future superstar.
"I do remember getting to the arena that day and I had no clue I was in a ladder match until I got there. I was like 'hmmmm' – I wasn't real thrilled about it! I was like it's really not my forte, it's not what I do best."
"So I'm very proud of that match. I think it might have been the only [ladder] match I was ever in. I can't think of the top of my head of another one. So we got it right the first time, we didn't have to do it again!" Undertaker added.
The two would face each other multiple times in the years to come. Most notably, they faced off in an Extreme Rules match at SmackDown which Jeff Hardy won clean after delivering a leg drop from the top of the ladder.
ADVERTISEMENT
Article continues below this ad
Watch this story: OMG Moments from the WWE Ruthless Aggression Era
ADVERTISEMENT
Article continues below this ad