WATCH: When Alexa Bliss Showed Her Sinister Side and Faked a Gruesome Arm Injury Against Sasha Banks
Published 01/29/2021, 6:30 AM EST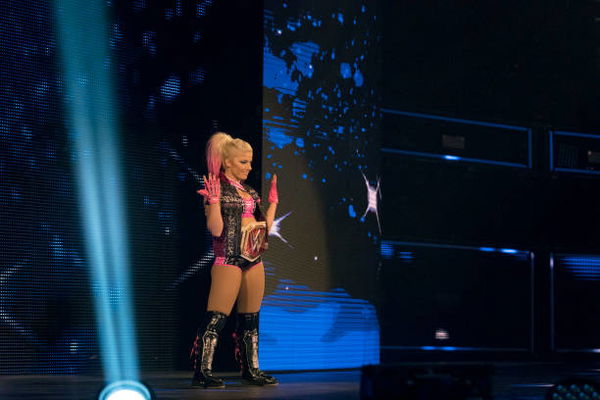 ---
---
Alexa Bliss is on a dark path after the Fiend's demise at TLC 2020. She has embraced her evil side and attacked her opponents in 'Alexa's Playground.' However, this side was always somewhat prevalent in her.
ADVERTISEMENT
Article continues below this ad
The 5-time women's champion and the 'Goddess' of WWE has been a 'heel' for most of her career. As the rule goes, Bliss was adamant to keep her title by hook or crook.
In one instance, Bliss defended her RAW Women's Championship against Sasha Banks at WWE Great Balls of Fire (2017). Banks earned the shot after a gruesome gauntlet match.
ADVERTISEMENT
Article continues below this ad
Both women tried their best to topple each other. During the match, Alexa went into the corner, holding her arm, which was bent backward.
Sasha looked horrified as Bliss wailed in pain. The referee was trying to help the injured champion as everyone thought the match would end.
However, Bliss attacked Banks moments later, revealing it was nothing but a sinister prank. Although Banks won the match via count-out, Bliss got to keep her title. See the moment below –
Later on, Bliss revealed she is 'double-jointed.'
"Well my elbows just like bend backward, they both do, they always have, I always used to freak out my cheer coaches with it all the time, but it's just a little trick," she said.
Being double-jointed means the affected ones have added mobility.
"This happens because the tendons and ligaments, which make up the connective tissue around the joint, are too loose or flexible," Dr. Jennifer Hand, who specializes in hypermobility, told BuzzFeed.
Alexa Bliss has been showing her flexibility in recent feuds as well
Her latest association with Bray "The Fiend" Wyatt had led Bliss to a heated feud with his 'killer' Randy Orton. After the Firefly Funhouse burnt down with Fiend, Bliss introduced her 'playground.'
ADVERTISEMENT
Article continues below this ad
With that, she introduced many new and creepy aspects into her character. In her match with Asuka recently, she turned the ring into her playground and bent like Bray Wyatt, freaking Asuka out.
Although Bliss almost won her sixth "shiny new toy", Randy Orton crashed the match and ruined her chances with an RKO. However, the rivalry between the two is far from over as all eyes are on the Royal Rumble 2021.
ADVERTISEMENT
Article continues below this ad