WATCH: When Brock Lesnar Broke Character to Show Off Dance Moves in WWE
Published 05/21/2021, 6:45 AM CDT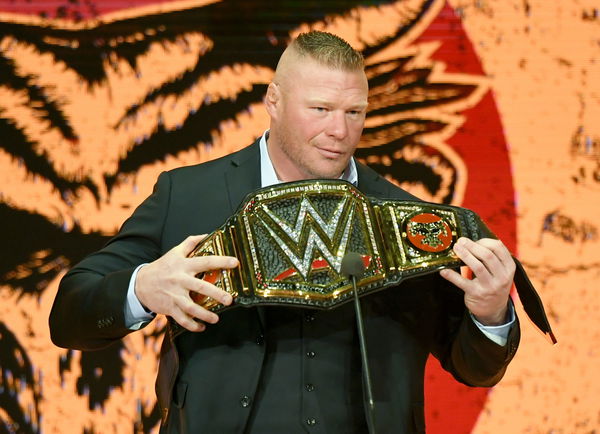 ---
---
Despite being an asset to WWE, Brock Lesnar was never a crowd-pleaser throughout his career. He kept a straight face while his manager/advocate Paul Heyman delivered his promos.
ADVERTISEMENT
Article continues below this ad
However, on May 20, 2019, WWE Universe a strange and rare phenomenon. After winning the 2019 Money in the Bank ladder match, Brock seemed very happy as he smiled ear-to-ear. He danced around, pretended his MITB briefcase was a jukebox, and "partied."
Fans watched in utter disbelief as 'The Beast Incarnate' broke his character, probably for the first time in his career. The incident was made viral, and the WWE universe made lots of memes out of it. WWE recently posted an Instagram video celebrating the two-year anniversary of "Brock Party."
ADVERTISEMENT
Article continues below this ad
 

View this post on Instagram

 
During the PPV in 2019, Lesnar was a surprise entrant. He replaced Sami Zayn and appeared in the match at the last minute, threw Ali from the ladder and won the contract.
Lesnar became the third person to win the King of The Ring, Royal Rumble, and Money in The Bank after Edge and Sheamus. Lesnar would eventually cash in the contract on Seth Rollins at Extreme Rules that year.
By doing so, he won the Universal title for the third (and last) time in his career. Lesnar left WWE last year after losing his WWE Championship to Drew McIntyre at WrestleMania 36.
Paul Heyman reveals if Brock Lesnar would come back to challenge Roman Reigns
As of now, Brock Lesnar resides on his farm in Maryfield, Saskatchewan, with his family. As a highly private person, the media has little to no details about his life outside of the squared circle or the octagon.
In a recent interview with DAZN, his longtime friend Paul Heyman revealed some details. Heyman is currently managing Universal Champion Roman Reigns, and he talked about whether Lesnar would return to challenge the latter again.
"How you can be cognizant of the fact that Brock Lesnar does not want to challenge Roman Reigns for the Universal championship, or at least not yet, is because he hasn't done it," Heyman said. "Because if Brock Lesnar wanted to it, it would have happened already. And it hasn't happened already because he doesn't want to."
ADVERTISEMENT
Article continues below this ad
"Now, there may be reasons why he doesn't want to, and that's for Brock Lesnar to reveal if Brock Lesnar ever decides to reveal it. Man doesn't tweet. He doesn't post pictures on Instagram. He's not a public persona. He's a very private beast."
Paul Heyman also revealed that Lesnar enjoys being a private person and farming outside of his profession. Whenever Brock wants to publicly return, he would do so without any doubt.
ADVERTISEMENT
Article continues below this ad