WATCH: When Brock Lesnar Decimated the Entire WWE Roster to Earn the Main Event Spot at Wrestlemania
Published 01/28/2021, 10:08 AM EST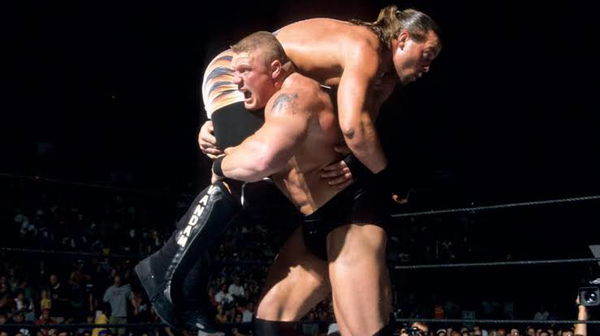 ---
---
'The Beast Incarnate' Brock Lesnar is a force unlike any other. He climbed the top of the WWE mountain at an insane speed and won every prestigious title/match there is in the WWE, including the Royal Rumble! Lesnar won the 2003 Royal Rumble in dominant fashion. Today, we look back at how he pulled it off!
ADVERTISEMENT
Article continues below this ad
Brock Lesnar wins 2003 Royal Rumble match
Brock Lesnar entered the Rumble at the favorite spot of number 29. There was a sea of Superstars in the ring as Lesnar came in, but it was soon going to get empty. Charlie Haas and Shelton Benjamin tried to eliminate Lesnar, but he eliminated both of them at once instead!
ADVERTISEMENT
Article continues below this ad
Matt Hardy tried to sneak attack right after Lesnar eliminated both men. Those punches would not hurt the 'Next Big Thing.' He picked up Hardy and delivered an F5 right outside the ring! Matt Hardy fell directly on Haas and Benjamin, who were still at ringside.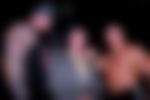 Batista and A-Train immediately double teamed and brought down Lesnar in the corner. The Undertaker then came in at number 30 and cleaned the house by eliminating John Cena, Jamal, and Maven in quick succession. RVD & Kane double-teamed to eliminate A-Train, but then Kane betrayed RVD and eliminated him too!
The match was down to its final four competitors – Batista (#28), Brock Lesnar (#29), Kane (#22), and The Undertaker (#30). Batista and Kane took down each other with a double clothesline. Taker and Lesnar were face to face and were just about to trade punches, but Batista attacked Taker and Kane attacked Lesnar.
The 'Next Big Thing' to 'Next World Champion'
Batista put down The Undertaker with a vicious spinebuster. He then went to the corner and teamed with Kane to throw punches and kicks at Lesnar. 'The Beast Incarnate' fought back and laid both Batista and Kane with a Belly-to-belly suplex and F5, respectively.
Taker and Lesnar finally came face to face and exchanged some hard blows. Lesnar went for the F5, but Taker countered and hit him with a Tombstone piledriver. Lesnar was out cold as Taker eliminated Batista and even his brother, Kane.
ADVERTISEMENT
Article continues below this ad
Batista couldn't digest getting eliminated and tried to attack with a steel chair. The Undertaker kicked the chair out of his hand and hit him hard with it, sending him out of the ring. Just as Taker was looking at Batista at ringside, Lesnar regrouped and threw the Undertaker over the top to win the 2003 Royal Rumble match!
Brock Lesnar earned his spot in the main event of WrestleMania XIX. He challenged Kurt Angle for the WWE Championship and won it! His victory made him the youngest WWE Champion in history until Randy Orton broke the record at SummerSlam 2004.
Lesnar is definitely a formidable Rumble competitor. Will he return or not is another question. Share your thoughts on Lesnar's 2003 Royal Rumble victory in the comments below!
ADVERTISEMENT
Article continues below this ad