WATCH: When Dwayne "The Rock" Johnson Humbled CM Punk in Iconic Elimination Chamber Match
Published 02/17/2021, 12:10 PM EST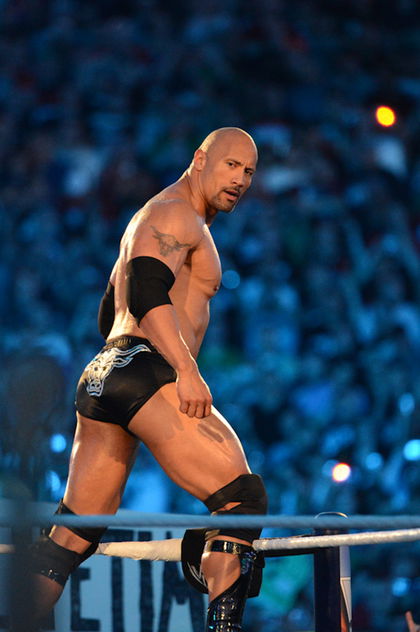 ---
---
Dwayne "The Rock" Johnson has achieved some major feats both in and outside of wrestling. He became the first superstar to make his own mark in Hollywood, yet he always found time for his roots.
ADVERTISEMENT
Article continues below this ad
In one instance, The Rock, at the height of his Hollywood career, returned to WWE. In what we could now perceive as a 'passing of the torch,' The Rock challenged his successor, John Cena. However, in their feud, another legend was also involved.
To give the "People's Champ" his tenth world championship, WWE ended Punk's 434-day reign as a WWE Champion. Punk, along with his manager Paul Heyman, was not so happy about the decision as usual.
ADVERTISEMENT
Article continues below this ad
Following Royal Rumble 2013, Heyman successfully negotiated a rematch with WWE Champion The Rock. Per the stipulation, if the champ was counted out or disqualified, he would lose the title. Today marks the eighth anniversary of the rematch at the Elimination Chamber.
In the 20-minute match, Punk accidentally knocked out two referees. Following the second referee's incapacitation, Punk tried to hit Rock with the title in desperation.
However, Punk hit Heyman. Following this, The Rock picked up the victory after his second Rock Bottom of the night. This made sure he would face Cena in a title match at WrestleMania 29 in their rematch from last year.
Dwayne "The Rock" Johnson unveiled a new WWE title
As a part of ushering in the new era', Johnson unveiled a new design for the title belt. The night after the Elimination Chamber, he put the title to rest as the title "should never look like a toy," and "it should never spin."
As a title should inspire, remind the wrestler of the champ that came before them, Johnson unveiled the title with customized side plates. These plates looked like his Bahama Bull logo, and they would be customized with each champion.
Later on, The Rock would face Cena in a title match at the main event of WrestleMania 29. As the winner of Royal Rumble and per their rematch clause, it was a two-in-one and winner-takes-all situation.
ADVERTISEMENT
Article continues below this ad
John Cena won the match and became an eleven-time World Champion. The event remains the highest-grossing live event in WWE's History.
Do you think The Rock would come back anytime soon? Let us know in the comments below.
ADVERTISEMENT
Article continues below this ad