WATCH: When Former WWE Champion Brock Lesnar Trained with 2021 NCAA Heavyweight Champion Gable Steveson
Published 04/08/2021, 7:45 AM EDT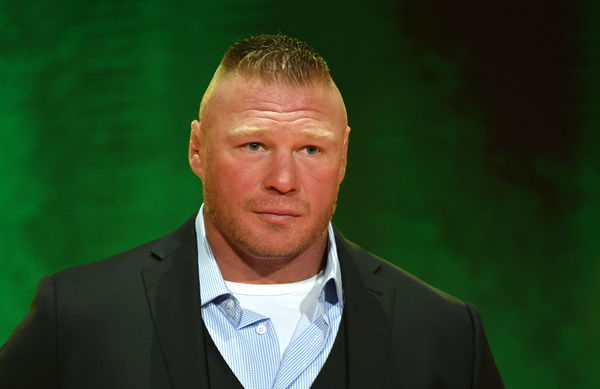 ---
---
Former WWE Champion Brock Lesnar does not seem like the type of person to train youngsters. Over the years, WWE has portrayed the Beast Incarnate as a mercenary who is utterly selfish. However, this video of Brock Lesnar training with the new NCAA Heavyweight Champion Gable Steveson will prove you wrong.
ADVERTISEMENT
Article continues below this ad
Brock Lesnar trains with Gable Steveson
ADVERTISEMENT
Article continues below this ad
Both men belong to the state of Minnesota and have represented their state in the NCAA Championships. Brock won the title in 2000, and Steveson won it in 2021. The Minnesota Gophers captured the stalwarts from different generations training on the mat.
Just like Brock, Steveson has been called a freak athlete, and one can see that for themselves by watching his celebration after winning the NCAA Championship. The youngster gave the 43-year-old a tough time and surely impressed the Beast during the practice session. He more than proved he's capable of winning the NCAA Championship, and he did.
After practicing with Steveson, Brock spoke to the rest of the Gophers' wrestling team and imparted some advice. The Gophers' belong to the University of Minnesota and aren't just a wrestling team. The basketball team, football team, and the ice hockey team are also called the Gophers.
Lesnar himself is a former Gopher and was named an honorary coach for the Gophers' wrestling team for their big ten opener against the University of Wisconsin. He also celebrated the 20th Anniversary of his NCAA Championship victory during that time.
Kurt Angle claims Gable Steveson is just like the Beast
ADVERTISEMENT
Article continues below this ad
On his podcast, the Kurt Angle Show, WWE Hall of Famer Kurt Angle praised Gable Steveson after his win. Receiving praise from one of the best professional and amateur wrestlers of all time is a tremendous deal for the youngster.
"I think he is going to be a big star. Look at his look. If he adapts to pro wrestling and picks it up like Brock Lesnar, he is going to be exactly like Brock Lesnar. So, I think he needs to take the chance. Whether he goes to MMA or WWE, one or the other, but he's got to do one of them. I think that he is a future star regardless of whatever he does. He's got a great look to him. Great athlete."
If Gable ends up becoming anything like the Beast Incarnate, we're about to witness the greatest thing to walk into the WWE since the 'Next Big Thing' himself.
ADVERTISEMENT
Article continues below this ad