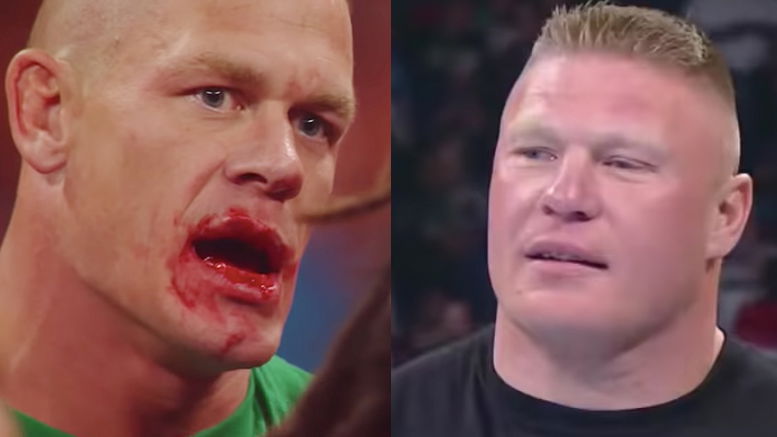 In 2012, Brock Lesnar shocked the world by coming back to the WWE. What shocked everyone more was the fact that he started a feud with John Cena. On April 9, 2012, episode of Raw these both men in the build-up to their match on the  Extremes Rules pay-per-view brawled and took the entire locker room out.
The segment began with then Raw general manager John Laurinaitis called Lesnar to speak in the ring. Brock took a mic and stated his thanks to Laurinaitis for bringing legitimacy back to the company. As soon as he finished the sentence John Cena's music started.
Cena came to the ring with a huge pop from the crowd as Brock looked at him with a smirk. They both stared at each other as after a few seconds Cena slapped Lesnar. The Beast did not take this lightly and retaliated by taking him down. Both men started punching each other as Laurinitus signaled for people to come and stop them with the referees being the first ones to come. Shortly, the entire locker room came to stop these two.
Eventually, the locker room was able to separate them but this was short-lived as Lesnar broke free and went on his attack, and before the locker room was able to separate the two Brock managed to punch Cena as he got Cena to bleed. Cena smirked and this time he broke free and attacked the Beast and had got him down before being separated. Lesnar again attacked Cena but this time they were separated for good.
John Cena and Lesnar at Extremes Rule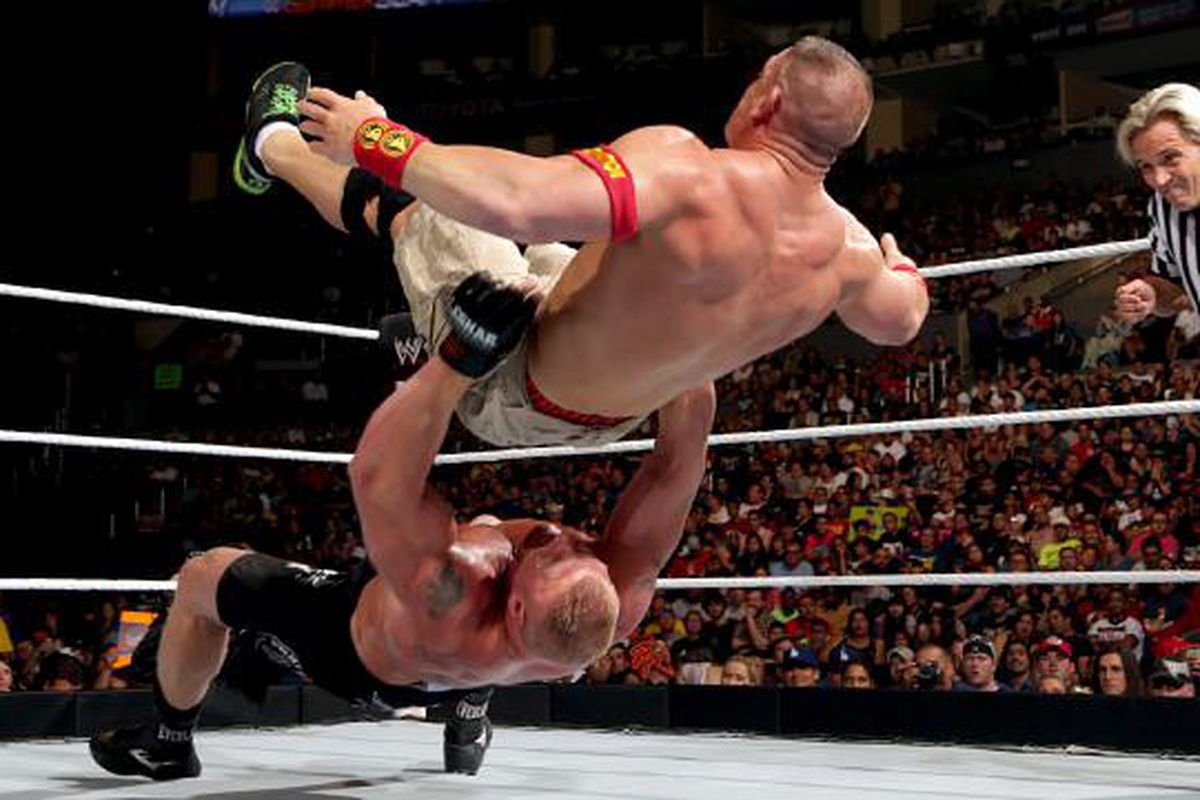 This was an excellent segment to hype up the Cena-Lesnar feud. Within 2 weeks they had the fans invested in the match and had put over Lesnar as an egoistical heel. Their drama would continue until their brutal match at the pay-per-view.
The Extremes Rules pay-per-view saw a rise of 25.8% (263,000) from the previous year. The main event wasn't a championship match but the Cena-Lesnar match. The match was brutal which saw Cena being bloodied and Lesnar locking in the Kimura lock on Cena on the steel steps. The match ended with Cena hitting the Attitude Adjustment on the steel steps to pick up the win.