WATCH: When John Cena and Roman Reigns Got Into a Heated Verbal Altercation on WWE Raw
Published 06/10/2021, 9:02 AM EDT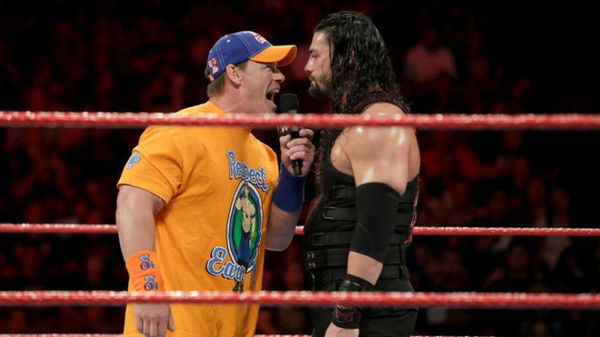 ---
---
Roman Reigns has been the top guy at WWE for a long time now. His excellent in-ring ability capped with a solid promo ability makes him a fan favorite. But this wasn't always the case as 'The Big Dog' wasn't as fluid with delivering promos as he is now. A promo segment with John Cena tells us all we need to know.
ADVERTISEMENT
Article continues below this ad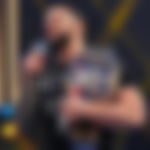 The feud between Roman Reigns and John Cena in 2017 was exquisite. Though it had the type of build fans would expect for a WrestleMania main event, WWE chose the 'No Mercy' pay-per-view for the match. This led to one of the best promo segments in WWE history. Both superstars took personal shots at each other and declared that the other was not worthy of being where he is.
ADVERTISEMENT
Article continues below this ad
Reigns claimed Cena buried as much young talent as he could in order to stay on top. He literally said,
"I'm the one guy in WWE that John Cena can't see," 
while doing the hand taunt of
Cena
. After a little trash talk, Cena said this iconic line.
"Congratulations. It took you five years to get a halfway decent promo, but now I'm about to shrink you down to size."
I don't need stunts or gimmicks. I am every bit of this art form. 30 min inside the ropes.. No crowd, no problem. Head and shoulders above everyone else and that's being generous!!

THEE MAIN EVENT. #TakeItFromMe https://t.co/TuWNiSIczZ

— Roman Reigns (@WWERomanReigns) May 18, 2021
If they had such an amazing promo back then, fans are imagining how much better it will be now. Who knows, maybe WWE will do it.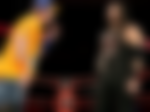 Roman Reigns struggled with memorizing lines
One of the issues during the feud was that it absolutely exposed how much Reigns struggled with memorizing promo lines. This was long before Roman would become '
The Tribal Chief
' and deliver convincing promos on television every week.
During the build to their match at 'No Mercy', Cena actually called out Reigns for forgetting his lines in a segment. In the segment, Roman was stating why the fans boo Cena. As Cena was heckling Reigns, it made 'The Big Dog' completely forget his lines.
ADVERTISEMENT
Article continues below this ad
Cena broke the long pause and said, "It's called a promo kid. If you're gonna be the big dog, you're going to have to learn how to do it, so go ahead." 
ADVERTISEMENT
Article continues below this ad
Roman quickly retaliated, "Shut your mouth, John," before his lines finally came back to him and the promo exchange continued.
What are your thoughts? Comment down below and let us know!