WATCH: When John Cena Humiliated Brock Lesnar on Mic Before Their Encounter on SmackDown in 2003
Published 02/07/2021, 7:45 AM EST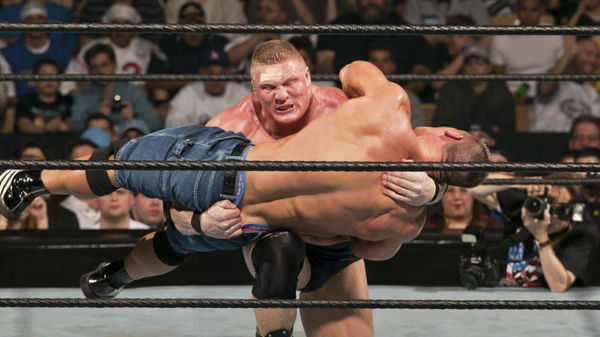 ---
---
Heel John Cena was absolutely entertaining. The rapper gimmick was not a big hit in 2003, but it would end up laying the foundation for Cena's career in the late 2000s. One match that defined Cena's heel run was a thrilling SmackDown main event against Brock Lesnar.
ADVERTISEMENT
Article continues below this ad
Brock Lesnar vs John Cena: SmackDown, Feb. 13, 2003
ADVERTISEMENT
Article continues below this ad
Brock Lesnar portraying the babyface against John Cena is an unusual sight. But WWE was a different place in 2003. Lesnar was heading into a WrestleMania program with the WWE Champion Kurt Angle and needed a big win. The 2003 Royal Rumble winner found an opponent in a young John Cena.
Cena busted out some scathing rhymes, targeted at Lesnar's intelligence, or rather lack thereof. This angered the Beast who pummeled Cena as soon as he stepped into the ring.
Lesnar tossed Cena around with overhead belly-to-belly suplexes, but Cena fought back by wrapping his steel chain around his fist and smashing Lesnar in the face with it.
Cena fought his way back into the match and almost put away the No. 1 contender for the WWE Championship. However, Lesnar slammed Cena's skull off the steel turnbuckle and dropped him with a match-winning F5.
After the match, he F5'd John Cena against the steel ring post to send a message to Kurt Angle.
The incredible rivalry between Lesnar and Cena
No one expected Brock Lesnar to return to the WWE in 2012. His altercation with John Cena on the Raw after WrestleMania 28 is one of the best moments in the history of WWE's flagship show. Since then, John Cena became a sworn enemy of the Beast Incarnate.
Cena and Lesnar met at Extreme Rules in a match that defined the word 'extreme'. Lesnar beat the life out of Cena, but the latter eked out a shock win by hitting an Attitude Adjustment on the steel steps for the win.
ADVERTISEMENT
Article continues below this ad
The next match between the two was something completely different. At SummerSlam 2014, Brock Lesnar brought the pain to John Cena.
Sixteen suplexes and two F5s were all it took for Brock Lesnar to beat Cena for the WWE World Heavyweight Championship. Cena would receive his rematch at Night of Champions, but Seth Rollins would cost him the title.
Lesnar, Rollins and Cena would then face off in a blockbuster triple threat match at the 2015 Royal Rumble.
ADVERTISEMENT
Article continues below this ad