WATCH: When Samoa Joe Ridiculed Brock Lesnar by Choking him out on WWE Raw
Published 12/06/2020, 10:58 AM EST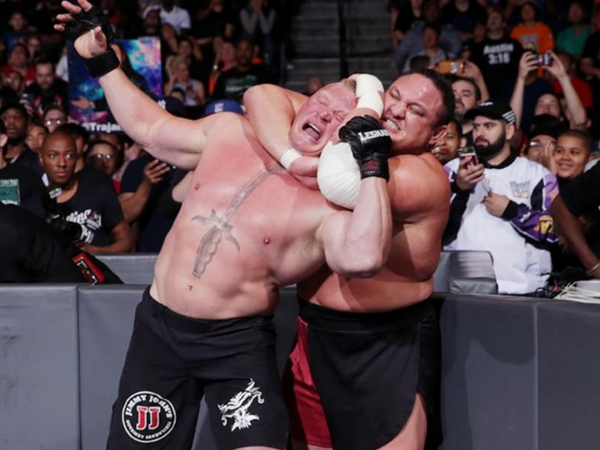 ---
---
There was a moment back on WWE Raw, June 26, 2017, when Paul Heyman was speaking highly of his client, Brock Lesnar, while putting down Samoa Joe for not fearing 'The Beast'. However, Joe didn't wait to meet Lesnar in the ring to show him what he is capable of.
ADVERTISEMENT
Article continues below this ad
During the speech, Heyman claimed that Samoa Joe disrespected Lesnar by saying he was not afraid of the 'Beast.' Second cheap shot was when Joe kicked Lesnar in the face while everyone in the locker room was holding back Lesnar from attacking Joe.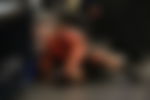 To take things to the next level, Heyman referred to Samoa Joe as a "Samoan Dumba**". Following this, he welcomed Lesnar to the arena.
ADVERTISEMENT
Article continues below this ad
Brock Lesnar came out with his usual zest and style, completely unaware of what was going to happen next. While he was looking at the audience, Joe came from behind and locked Lesnar in the Coquina Clutch. Regardless of how desperately 'The Beast' tried to break the clutch, he failed.
The guys from backstage had to come out to hold Joe back. Brock Lesnar had gone into a state of shock with the sudden attack. Evidently, Samoa Joe had the Samoan spirit of the previous legends that have walked the ring from his family.
Brock Lesnar and Samoa Joe battled for the WWE Championship title
It is only fair that WWE gave the behemoths a chance to show who is better. As a result, both of them came face-to-face in the ring at the Great Balls of Fire PPV on July 10, 2017. Lesnar put his WWE Championship on the line.
Initially, the match tilted in Joe's favour when he had the Coquina Clutch locked in. It appeared like Lesnar was going to collapse.
'The Beast', however, regained his senses within time to deliver an excellent F-5. This was just enough to put Joe down and for Lesnar to keep his WWE Championship title via a pinfall victory.
ADVERTISEMENT
Article continues below this ad
Usually, Lesnar's opponents used to be Superstars who were underdogs. None of them could truly match up to his potential. However, this was definitely not the case with Samoa Joe.
He was one of those Superstars who could match up to the 'Beast', and he did.
ADVERTISEMENT
Article continues below this ad
This rivalry was popular enough for the audience to want more, even after Lesnar kept his title by defeating Samoa Joe.