WATCH: When The Undertaker Controversially Avenged His WrestleMania Loss Against Brock Lesnar at WWE SummerSlam 2015
Published 08/19/2021, 9:45 AM EDT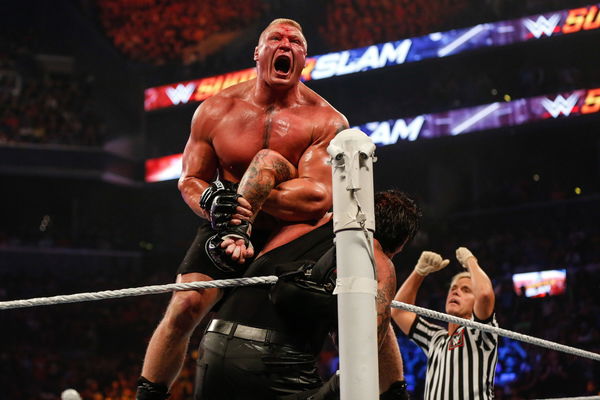 ---
---
SummerSlam 2015 was absolutely legendary. It was The Undertaker vs. Brock Lesnar, and the WWE Universe was giddy with excitement about the match!
ADVERTISEMENT
Article continues below this ad
The event took place at Barclays Center in Brooklyn, New York, and had an attendance of over 15,500.
Coming to the match, it is considered being one of the most controversial matches in the event's history. It so happened that Brock Lesnar had put The Undertaker in the Kimura Lock, and apparently Taker tapped out.
ADVERTISEMENT
Article continues below this ad
The bell rang as he tapped out, but referee Charles Robinson did not see this submission. In fact, the referee was arguing with the timekeeper about why the bell went off even when he didn't call for it. By this time, Lesnar was already celebrating his victory with his hands in the air. Unfortunately for The Beast, The Deadman delivered a low blow to him and applied a Hell's Gate on him until he passed out.
Now, since the referee's word is the last word in WWE, The Undertaker 'won' the match. It was a controversial win, but as per the records, it was The Undertaker's victory.
Another moment from the match that stuck through the years is when Lesnar mocked Taker's sit-up, and both sat in the ring laughing at each other.
Regardless of how it ended, the fans couldn't stop chanting "This Is Awesome" during the entire match!
The buildup to The Undertaker vs Brock Lesnar for WWE SummerSlam 2015
The Beast was the one who broke The Undertaker's WrestleMania streak at WrestleMania 30. This was an iconic moment in WWE history.
After this, Lesnar had a match with John Cena where he defeated Cena and became the Heavyweight Champion. Regrettably, Lesnar lost the title to Seth Rollins at WrestleMania 31.
To win it back, Lesnar and Rollins had a rematch at WWE Battleground. The Beast was almost about to win when The Undertaker interfered and cost Lesnar the victory.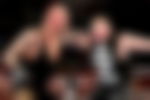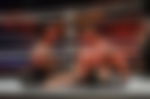 The Deadman revealed he returned from his absence following WrestleMania 31 because he was tired of hearing Lesnar and Paul Heyman take shots at his broken WrestleMania streak.
ADVERTISEMENT
Article continues below this ad
As a result, Lesnar challenged Taker, which The Phenom accepted.
One of the major segments which laid the foundation of their feud leading up to SummerSlam was their brawl after Taker's interference. It was the clash of the titans and the entire locker room failed to separate them from tearing down each other.
Even though currently neither of them are working with WWE, what they have to the WWE Universe during their time with the company will never be forgotten!
ADVERTISEMENT
Article continues below this ad
Watch This Story: Drew McIntyre to The Miz: The Rare Opponents of The Undertaker