WATCH: When Vince McMahon did the Iconic Spinaroonie to get Undertaker to Break Kayfabe
Published 04/26/2021, 10:52 AM EDT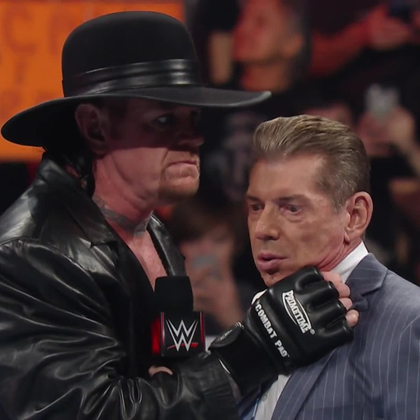 ---
---
Vince McMahon might be cold-hearted and shrewd, but he's a heck of an entertainer. The owner of the biggest wrestling company in the world knows a bit or two about how to send the fans home happy. In one situation, he went a little too far and almost pissed off the Undertaker!
ADVERTISEMENT
Article continues below this ad
Vince McMahon does the Spinaroonie
ADVERTISEMENT
Article continues below this ad
In the summer of 2002, Vince McMahon marched to the ring and attempted something audacious. While doing the Spinaroonie is daring enough for the CEO of WWE, he also attempted to get Undertaker to break kayfabe.
On his Hall of Fame podcast, Booker T narrated the entire incident in his words and Taker's reaction to the hilarious moment.
"The referee's got the earpieces in and the referee tells me, 'tell Taker to do the Spinaroonie'. So I got to get the microphone, 'the people wanna see a Takeroonie'. And he looks at me like, 'oh my God'. He wanted to kill me."
"The next thing you know, somebody's music plays, they come out. They do the Spinaroonie. The Rock came out, Vince McMahon came out. Everybody came out that night to do the Spinaroonie. We literally was on the air for forty-five minutes after the show went off the air trying to get the Undertaker to do the Spinaroonie."
Taker refused to do the Spinaroonie and even sent a message to Vince. "You put them up to that Vince, and when I get back there, I better not see you. There ain't a chance in hell I'm gonna get out here and do the Spinaroonie, so you might better send the cavalry."
Vince and Undertaker's relationship
Working alongside Vince McMahon for thirty years forged a great relationship between Undertaker and him. The CEO often praised the Deadman outside the ring, as he was his most valuable asset for three decades. Despite their friendship, they had their issues in the ring as well.
On After the Bell podcast with Corey Graves, Taker commented on his relationship with Vince McMahon.
ADVERTISEMENT
Article continues below this ad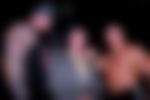 "We started out and obviously I started out just like everybody else does. Early on it was like 'how are you Mr. McMahon' kinda deal and through thirty years obviously I've been through just about everything with him and you realise he's a human being, and I think a lot of times people forget that."
Taker claimed his relationship with McMahon resembles a friendship more than an employee-boss conundrum.
ADVERTISEMENT
Article continues below this ad