WATCH: When WWE Legend Lex Lugar Failed Miserably to Lift 400 Lbs Superstar Road Block
Published 07/03/2021, 12:51 PM EDT
---
---
WCW legend Lex Luger has always been a beefy, muscular wrestler and has even been dubbed the total package. He was once the top guy in WWE based on his looks and physique. His finisher, the Torture Rack, seemed deadly and made even the toughest of wrestlers submit. However, what happens when the other wrestler is almost 400 pounds?
Lex Luger prided himself on making other wrestlers submit to his Torture Rack, but there was an instance when he had trouble with his own finisher.
Luger tried to pick up a nearly 400-pound wrestler, Road Block, for the Torture Rack but completely failed. The crowd cheered him to give it another go, which he did. Alas, no end product.
ADVERTISEMENT
Article continues below this ad
ADVERTISEMENT
Article continues below this ad
Seeing that Luger was on the verge of giving up, the crowd heavily cheered for one last try. Luger complied, and with the might of his shoulders, picked up the 400-pound man and delivered his finisher. And of course, the final victor was Lex Luger by submission.
This just goes to show how determination can turn the tide around whenever you want to. It was Luger's steely perseverance that made
Vince McMahon
push him as the top guy after Hulk Hogan left WWF for WCW.
ADVERTISEMENT
Article continues below this ad
 

View this post on Instagram

 
Watch This Story – Randy Orton, Eddie Guerrero, and More: WWE Superstars Who Pulled Off Impressive Move Reversals!
Lex Luger's big push in WWE
Let's rewind to the beginning. When Hulk Hogan left the WWE/WWF to join WCW in 1993, the company had no idea what they would do next.
At the time, WWF did not have any top stars at the level of Hogan, so they had the tough task to make a star out of nowhere. This wrestler had to carry the company forward in the absence of Hogan.
Vince McMahon's big idea was to turn the then-heel Luger face and then make him into an All-American loving hero.
Vince had this huge idea for Lex to tour the USA on a bus called the "Lex Express". McMahon tried the copy and paste formula on Luger, but sadly, he was no Hogan.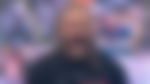 ADVERTISEMENT
Article continues below this ad
What are your thoughts? Comment down below and let us know!
Trending Stories