WATCH: When WWE Legend Mick Foley Hilariously Entered The Royal Rumble Thrice on the Same Night
Published 01/23/2021, 6:45 AM EST
---
---
To win the prestigious Royal Rumble, Superstars will go down any path available. In the past, we have seen Superstars taking advantage of loopholes, flexibility, and even other wrestlers; but nothing comes close to Mick Foley.
ADVERTISEMENT
Article continues below this ad
The Hardcore legend did the unthinkable at the 1998 Royal Rumble. As we all know, there were 'three faces' of Foley. He became Cactus Jack, Mankind, and Dude Love per the storyline requirement.
In the Rumble match, Foley entered thrice under his three personas. The funniest part is how WWE allowed that as they can't contradict and invalidate their own character and kayfabe.
ADVERTISEMENT
Article continues below this ad
The match began with Cactus Jack, a violent hardcore brawler, and Chainsaw Charlie. Jack brought in a trash can (his occasional weapon) and fought with it.
However, Charlie eliminated Jack after almost nine minutes. Then, at number 16, Mankind, a masked, mentally ill broiler room lurker, came in to eliminate Charlie.
Goldberg eliminated Mankind under two minutes. As the final one of Foley's faces, Dude Love, a chilled hippie, entered the match at number 28.
Dude Love lasted seven minutes and was a part of the final four before Farooq eliminated him. In the end, Steve Austin emerged victorious after last eliminating The Rock.
Mick Foley debuted Mankind to fight The Undertaker
Mankind and Undertaker go a long way. From broiler room brawls to Hell in a Cell, the legendary duo shaped the course of modern wrestling and rivalries.
In a recent interview, Foley revealed why he debuted the character for Taker.
"I speculated that The Undertaker wanted to match up with someone who could battle him in a psychological way and not so much a physical way," revealed Foley.
ADVERTISEMENT
Article continues below this ad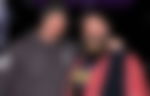 He then said that Vince McMahon did not like him and he wanted Foley to fail to "teach Jim Ross a lesson about believing in people who weren't all that good." However, Undertaker stepped in and decided to give this gimmick a chance.
Without Taker, Mankind would not have been so successful. Even though both of the men are retired, Foley hopes to see his old friend at the 25th anniversary of their Hell in a Cell match.
ADVERTISEMENT
Article continues below this ad
Would like to see another Mick Foley vs Undertaker showdown? Let us know in the comments below.