WATCH: When WWE's Most Feared Wrestler Brock Lesnar Kissed Kurt Angle in the Ring
Published 04/26/2021, 9:32 AM EDT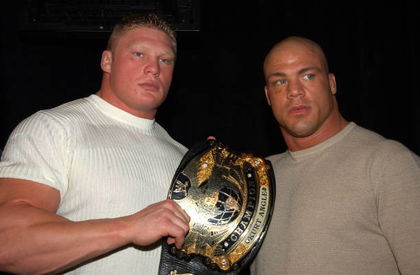 ---
---
If you think Brock Lesnar would be a great comedy wrestler, the entire internet wrestling community would point at you and laugh. The Beast got his name from his dominant in-ring performances, but he has a comedic side to him too.
ADVERTISEMENT
Article continues below this ad
Brock Lesnar kisses Kurt Angle on SmackDown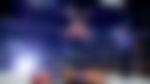 ADVERTISEMENT
Article continues below this ad
Brock Lesnar may not have many funny moments to his name, but his first stint with WWE included some goofy antics from the Beast. During his rivalry with Kurt Angle in 2003, they took part in a game of one-upmanship. These included some of the funniest moments of the Ruthless Aggression Era and WWE history.
From getting Kurt to spit milk out on a female fan to this hilarious yet shocking moment – Kurt and Brock did it all. After an episode of SmackDown in 2003, Lesnar grabbed Angle's face and kissed him in front of ten thousand fans. The moment wasn't televised, but the fans in attendance were treated to an extremely bizarre yet hilarious moment.
After the kiss, Angle had to one-up Brock so while going for a hug, he grabbed the Beast's backside to the joy of the live audience. Despite their incredible matches and superb chemistry, this moment proves that Lesnar and Angle enjoyed sharing the ring with each other.
Lesnar and Kurt Angle have a genuine friendship that extended beyond the ring. Maybe, it was their common background or the fact that they both played football in high school, but Kurt is one man who can say he's in Brock Lesnar's inner circle.
Their epic 2003 rivalry
ADVERTISEMENT
Article continues below this ad
Brock and Kurt first clashed in the main event of WrestleMania 19. Lesnar won the 2003 Royal Rumble and challenged Angle for the WWE Championship. In a battle of wrestling geniuses, Angle and Lesnar tried to out-grapple the other until it became a battle of who lands the winning move first.
Lesnar prevailed in the iconic main event where he also broke his neck by missing a Shooting Star Press. Their rivalry would resume at Vengeance 2003, where Angle captured the WWE Title from Lesnar, igniting their feud which provided loads of entertainment.
Brock formed an alliance with Vince McMahon and tried to wrest the title from Angle at SummerSlam 2003. Angle made the Beast submit at SummerSlam, but their sixty-minute Iron Man classic on an episode of SmackDown was the perfect way to close out their rivalry. Lesnar won the title back and ended their feud for good.
ADVERTISEMENT
Article continues below this ad