WATCH: WWE Champion Drew McIntyre Locks horns with Keith Lee ahead of SummerSlam
Published 08/21/2020, 11:41 AM EDT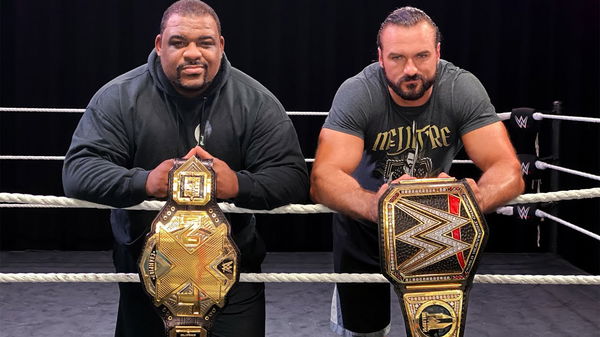 ---
---
There's nothing more exhilarating in WWE than when Champions face each other in a decisive match. The stakes are high and both Superstars give their absolute best. While it may not have been a real match, WWE shared a video of Champion Drew McIntyre and NXT Champion Keith Lee enter a sparring session with each other!
ADVERTISEMENT
Article continues below this ad
The two titleholders brushed up on their moves inside the ring and worked on counters. Keith Lee had a bit of trouble seeing after his face nearly got burned by Karrion Kross's book of fire.
ADVERTISEMENT
Article continues below this ad
The two Superstars engaged in a little chit-chat. Keith Lee asked McIntyre what his thoughts were on the Randy Orton rivalry. This question struck a nerve of the WWE Champion.
"Randall Keith Orton, hmmm. Randy is an absolute legend at this stage of his career but since this Edge thing started I guess, something changed in him," said Mcintyre. "I've never seen Randy the way he is now, he's so focused and sort of a different level."
"He doesn't care about anybody right now. He's taking on Ric flair, the guy who literally cleaned up every little mess behind him. After all that mentorship, after all that protection, all that money he brags about on his name now, he kicks Ric flair in the f****** head," says McIntyre.
Going off on a rant, McIntyre assured Lee that he was going to hurt Randy Orton at SummerSlam in a few days.
Drew McIntyre and Keith Lee both have tough defenses ahead of them
Drew McIntyre has finally met the eyes of "The Legend Killer" after months of following their own storylines. Randy Orton has been on a rampage, punt-kicking everyone he faces. 
He has Ric Flair's record of 16 Championship reigns on his mind. Orton hence looked towards Drew McIntyre, whom he also aims to vanquish. He has successfully ambushed McIntyre twice to RKO him, but McIntyre got the better of him on the latest episode of Raw.
ADVERTISEMENT
Article continues below this ad
The two are set to face off at SummerSlam. The stakes are high and the winner will take it all.
Keith Lee on the other hand has the powerful Karrion Kross to deal with. The first-ever NXT Double Champion has to face the strange but deeply interesting Kross and his partner, Scarlett, at NXT Takeover and defend his Championship.
ADVERTISEMENT
Article continues below this ad
Both Champions have a hard time ahead of them. It was only right that they get it off their chest in the sparring session. Perhaps we may get to see a big match between the two sometime in the future.