WATCH: WWE Superstar R-Truth Regains His 24/7 Championship From NFL Quarterback Doug Flutie During a Football Match
Published 02/07/2021, 7:00 AM EST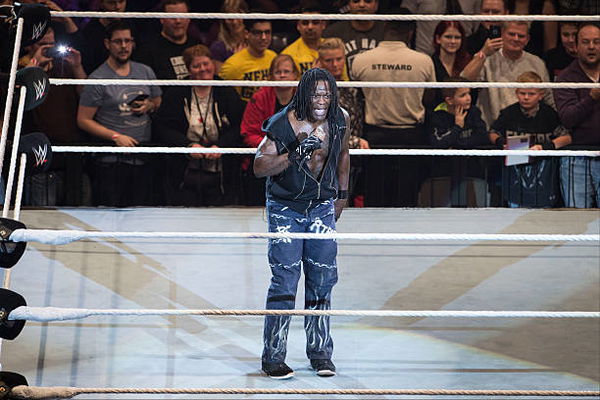 ---
---
R-Truth's adventures with the 24/7 Championships continued at Saturday's Celebrity Flag Football Game. The man with the most title reigns lost the title to quarterback Doug Flutie, known affectionately as Flutie, but R-Truth has won it back. Flutie is one of the few athletes to win the championship. The others are Rob Gronkowski, Kyle Busch and Enes Kanter.
ADVERTISEMENT
Article continues below this ad
Chaos at Clearwater Beach during Celebrity Football Game
ADVERTISEMENT
Article continues below this ad
R-Truth and fellow WWE Superstars appeared specially at the Celebrity Flag Football Game. While Titus O'Neil, The Miz and Cesaro were addressing the gathering, former NFL, CFL and USFL quarterback Doug Flutie sneaked up on Truth and rolled him up for the win.
R-Truth won back the title on the same day at Clearwater Beach. During the halftime, Truth sneaked up on Flutie and rolled him up to win back his coveted championship. He then scampered away with the title to avoid losing it again.
Doug Flutie might be the most popular and legendary figure to hold the 24/7 Championship. The Maryland native has won the coveted Heismann trophy and is probably the greatest player in the history of the Canadian Football League.
He returned to the NFL in 1998, joining the Buffalo Bills and also won the NFL Comeback of the Year Award.
Is R-Truth the funniest wrestler in WWE?
R-Truth signed for WWE in 2008 and was once a serious competitor. He held the United States Championship, he's a multi-time Tag Team Championship and has challenged for the WWE Championship too. Along with The Miz, he was one of the biggest heels on Raw and SmackDown in 2011.
ADVERTISEMENT
Article continues below this ad
Fast forward to 2021, and R-Truth is WWE's comedy guy. No disrespect to him, because he is absolutely brilliant in the role.
WWE have capitalised on his comic timing and his ability to be entertaining in almost every situation. For heaven's sake, the man brought a ladder to the ring during a Royal Rumble match, climbed it and looked for a MITB briefcase.
Truth might just be the funniest wrestler WWE has ever had. WWE rewarded his antics with a United States Championship run at the start of 2019, which added some wrestling value into his comedy shtick with Carmella. At 49, Truth's wrestling days might be behind him, and the comedy department is where he belongs.
ADVERTISEMENT
Article continues below this ad