"We Clashed Heads a Lot"- Former NXT Champion Reveals Relationship With His Idol Triple H
Published 05/16/2020, 5:17 AM EDT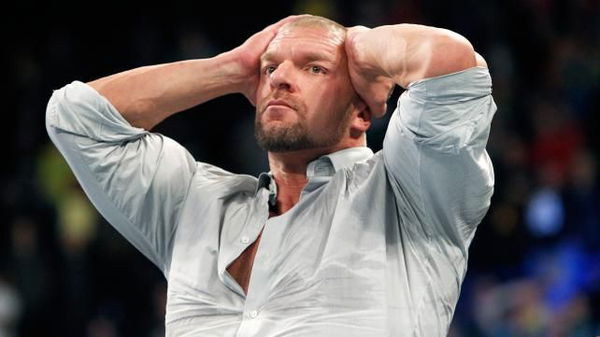 The WWE released former NXT Cruiserweight Champion Lio Rush as part of a long list of layoffs due to the global pandemic and lockdown. Rush had been released from the WWE once before, but made a triumphant return and picked up a championship. He recently sat down in an interview and opened up about his experience and his exit from WWE, and reveals the relationship he had with Triple H.
ADVERTISEMENT
Article continues below this ad
Lio Rush explains the backstage relationship with Triple H
Speaking about being a part of the WWE promotion, Lio thought back to his first exit. "I never heard anything from anybody so I was dealing with Vince at that point." Rush pointed out that on his first release from the WWE, he was just asked to wait by his phone. Even though the call came 6 months later, Rush made it back to the promotion.
ADVERTISEMENT
Article continues below this ad
He buckled down and became one of the most popular faces in NXT, bagging the Cruiserweight Championship. On his return, his interactions with Vince McMahon were positive through and through. The superstar had a good relationship with McMahon, feeling like he was always acknowledged by the boss. 
"Even though he didn't really reach back out to me after the initial hiatus, it felt like he still acknowledged me, he still acknowledged the fact that I was away and now I'm back, so that was a good feeling to have from the boss"
Lio had very different things to say about Triple H though. Rush is quite not sure whether his relationship with Triple H ended on good terms after his departure from WWE. Rush explained:
"Triple H… I don't know if it ended on good terms or not because I feel like me and Hunter, we clashed heads a lot. We were always in disagreement as far as what the plan was for me and how he saw me as a character or how he saw me as an asset to the brand."
I legitimately might not ever wrestle again.

— 🥀 Ever After OUT NOW! (@itsLioRush) May 4, 2020
ADVERTISEMENT
Article continues below this ad
Rush had always been a fan of Hunter, being younger than his peers in the business. He stated that his image of Triple H changed after he met him. Rush had trouble separating Triple H-his idol, from Triple H-his boss.
"I looked up to Triple H when I was a kid and stuff like that, but now, at the same time, I'm an employee of his and he is my boss, so it was hard for me to separate the two." Rush said, referring to his interactions with his hero and boss.
Rush, in the interview, states that he and Triple H always had disagreements with which direction his character could take. These disagreements may have come from a lack of communication, which eventually saw Rush released from his contract.
ADVERTISEMENT
Article continues below this ad
Lio is now pursuing a full-time career in music and doesn't look like he'll leave the stage anytime soon.