What a MATCH! Fans Go Wild After Bianca Belair Beats Sasha Banks in Historic WrestleMania Main Event
Published 04/11/2021, 8:19 AM EDT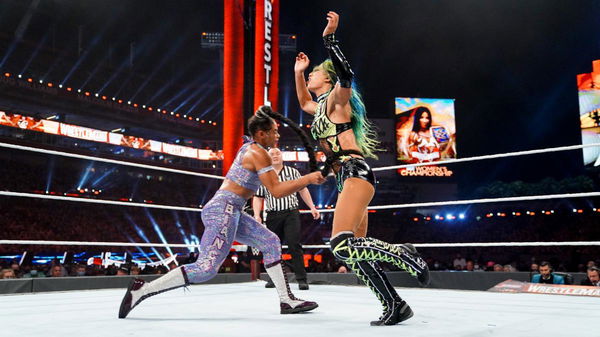 ---
---
Bianca Belair and Sasha Banks made history by becoming the first African American women to headline WrestleMania. Although the build to the match was terrible, the match itself ruled. Both women gave their hundred percent, and in the end, Bianca Belair emerged victorious.
ADVERTISEMENT
Article continues below this ad
Fans in disbelief after Bianca Belair wins WrestleMania main event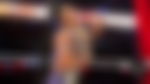 ADVERTISEMENT
Article continues below this ad
Fans in the Raymond James Stadium popped hard when Belair got the final three count. As for fans at home, Michael Cole almost ruined the moment by claiming Sasha kicked out. Had Cole not messed that up, fans watching from home might've had a better experience.
sasha and bianca both starting to cry and the knowing look between them wrecked me, i am an emotional mess pic.twitter.com/AfhtLnbrEt

— velma kelly in an act of desperation (@diandrasdiandra) April 11, 2021
Look at Sasha Banks struggling to hide her joy while selling at ringside as Bianca Belair celebrated her victory in the ring. The smile says it all.

Amazing. ❤️pic.twitter.com/y8zMmH4LJc

— Alex McCarthy (@AlexM_talkSPORT) April 11, 2021
But Cole's mistake did little to bring down the match quality. Going into the bout, fans knew Belair and Sasha were two of the best wrestlers in the world. Banks proved that form is temporary, but class is permanent with another beautiful performance.
The hair whip to the K.O.D finish. Fantastic. That hair whip is so pissing brutal and really should be illegal, but damn. What. A. Match. Bianca and Sasha SMASHED the #WrestleMania main event. SMASHED IT. 👏🏻👏🏻👏🏻 pic.twitter.com/lFomCWIVKo

— Ⓖareth Ⓙones™ (@Garuffalo) April 11, 2021
Banks starred in the heel role, tugging on Belair's braid at every moment she felt hope withering away. As for Belair, she played the emotional babyface to perfcetion and used her raw athleticism to put away one of the best in the world.
The now-Legendary welt is on Sasha's *right* side, which means Bianca's braid-whip had to sling around Sasha's back to make that kind of mark.

Jesus, that's a helluva fastball that Bianca throws with that thing. https://t.co/8Sg5Ddn2JH

— Alex Pawlowski (@AlexSourGraps) April 11, 2021
The pressure that Sasha Banks & Bianca Belair had to go thru for this match for multiple reasons is miles ahead of the pressure other Main Events had to go thru

They not only delivered & exceeded/lived up to the hype/expectations but they doubled that 🔥🔥🔥

— . (@IovelsX) April 11, 2021
The build to this match was atrocious and proved WWE cannot book high-profile dream matches, but the wrestling by both women puts this match in a different tier of WrestleMania classics. This match was everything the women's Triple Threat main event at WrestleMania 35 wasn't.
Story of the match
The Royal Rumble winner entered the match with a point to prove. Sasha called her a rookie throughout the build to this match, and Belair needed to show her she could hang with the best in the business.
ADVERTISEMENT
Article continues below this ad
The start of the match involved a feeling out process between both women who did not hesitate to talk trash. Belair tried to put Banks away with her flashy move-set, but the wily veteran kept things under control with her years of experience.
Both women began trading big moves with Banks going for a dive to the outside, only for Belair to catch her and press slam from the apron back into the ring. Belair countered a dropkick into a vicious powerslam that folded Sasha like an accordion.
After frog splashes connected and 450 splashes landed, Belair looked to put Banks away with the KOD, but Banks grabbed onto her braid. An enraged Bianca pulled the braid out of Sasha's hands and whipped Banks in the midsection. The crackling sound of the braid hitting Banks' midsection reverberated around the arena, as did the pop from the crowd after Belair pinned Banks with the KOD.
ADVERTISEMENT
Article continues below this ad