What Are The Worst WWE Storylines of 2020?
Published 12/23/2020, 7:00 AM EST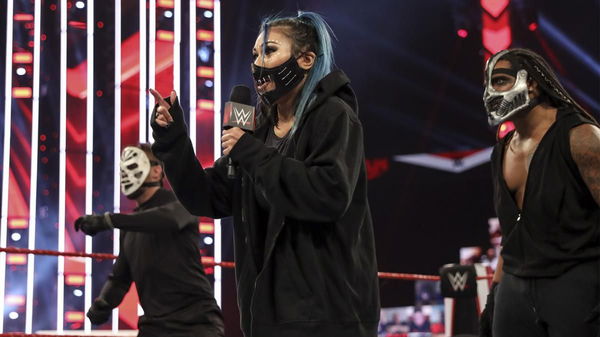 ---
---
WWE sometimes spins gold out of garbage, but on most occasions spin gold into garbage. WWE ruined an enormous range of rivalries by either 50/50 booking, poor storytelling, and in one instance, atrocious family drama. These are the worst storyline of 2020.
ADVERTISEMENT
Article continues below this ad
The Mysterios vs Seth Rollins
ADVERTISEMENT
Article continues below this ad
A standard one-on-one match between Seth Rollins and Rey Mysterio is a potential PPV main event. The clash of styles and the David vs Goliath dynamic would make for an incredible match. However, WWE infused the rivalry with absolute garbage. Rollins and Mysterio clashed in an Eye for an Eye match at Extreme Rules.
The finish saw Rollins ramming Rey headfirst into the corner of the steel steps. Mysterio writhed in agony, with a fake plastic eye in his hand. Grossed out by what took place before his eyes, Rollins vomited. After the Extreme Rules debacle, the rivalry would develop nicely as Dominik Mysterio made his debut at SummerSlam.
The rivalry took a turn for the worse once the remaining members of the Mysterio family got involved. This led to Rollins' disciple Murphy betraying him after he began a dalliance with Rey Mysterio's daughter. You know a rivalry is terrible when you need your daughter to date your enemy to stop the pain.
Braun Strowman meets his WWE maker
No. I'm not talking about Strowman going to heaven. Quite the opposite, actually. Braun Strowman got dragged into the depths of a lake for Bray Wyatt to re-emerge as The Fiend. The rivalry began after Strowman beat Goldberg for the Universal Title at WrestleMania 36. At the same event, the Fiend beat John Cena and vanished from WWE.
Cult leader Bray Wyatt reemerged to challenge his former black sheep for the Universal Title. They first clashed at Money in the Bank, where Strowman broke out of Wyatt's spell and beat his former leader. At Extreme Rules, the two clashed in a terrible Swamp fight. It was one of the worst cinematic matches of 2020.
Their terrible and dull rivalry ended at SummerSlam. Bray Wyatt reincarnated as the Fiend, and Strowman returned with a terrifying fresh look. Their Falls Count Anywhere match at SummerSlam was a slow and plodding affair, a reflection of their slow and plodding rivalry.
Lana/Rusev/Bobby Lashley's love triangle
We come to the storyline that led to Rusev's exit from WWE. Although he was released, Miro will be thanking his lucky stars that he isn't part of this terrible storyline anymore. Last year, Lana returned to WWE with a new lover. She and Bobby Lashley would torment Rusev, and it sparked a rivalry that was doomed from the beginning.
Miro revealed that WWE wanted him to say that he had erectile dysfunction. He was even promised a WrestleMania main event out of the Bobby Lashley storyline. Rusev was not the only one to suffer from this storyline. Ratings were tanking, and Lashley's credibility as a no-nonsense beast took a lot of damage. Lana continued to be an asset for WWE, but her popularity dwindled as well.
Retribution becomes the worst WWE faction of all time
ADVERTISEMENT
Article continues below this ad
WWE could not figure out how to book Retribution. The success of Nexus in 2010 gave Vince McMahon the inspiration to create a similar group. Retribution was meant to be a disruption in WWE's corrupt policies and practices. They revealed Mustafa Ali as the SmackDown hacker, who threatened to reveal all of WWE's secrets if no one complied with his demands.
Now, Retribution is trying to recruit Ricochet into their ranks. The group that started off as the biggest threat to WWE's stability is now an afterthought. It sucks to see the careers of Shane Thorne, Dominik Dijakovic, Mia Yim, Dio Maddin, and Ali wasted on a terrible storyline.
ADVERTISEMENT
Article continues below this ad
But, where did WWE go wrong with Retribution? The correct answer: from the very beginning.
Booked as a spooky group of miscreants, Retribution was taken lightly from the start. They never looked like a serious threat. Even now, as they are racking up wins, they still don't look like a solid group. It won't be surprising if the group disbands before WrestleMania 37.