What Was WWE's Worst Booking Decision of 2020?
Published 12/22/2020, 10:03 AM EST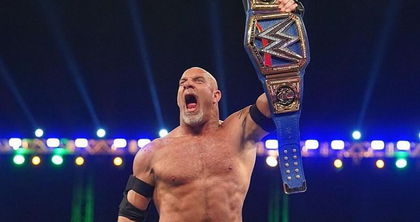 ---
---
2020 has seen some highs and lows, but the lows have been incredibly damaging. WWE Raw's ratings took sustained significant damage, and the creative team couldn't get around to fixing the crisis.
ADVERTISEMENT
Article continues below this ad
An overabundance of poor decisions from Vince McMahon and his team of writers have given 2020 the tag of being one of the worst years to be a wrestling fan.
The Fiend gets buried at WWE Super ShowDown
ADVERTISEMENT
Article continues below this ad
WWE kicked the year off in a manner that was near perfect. Drew McIntyre's Royal Rumble win and Edge's huge return set the tone for the year.
However, February played host to the least exciting PPV of all time. WWE's Saudi Arabia shows yield a massive amount of money but do not contribute storyline-wise at all. This year's Super Showdown event saw Goldberg take on The Fiend for the Universal Title.
The Fiend was coming off a massive victory at the Royal Rumble against Daniel Bryan. A win over Goldberg would have cemented his place as the most dominant champion in WWE.
However, WWE threw a wrench in Bray Wyatt's development and had Goldberg steamroll him and win the title. Goldberg's reign was atrocious, and fans weren't particularly happy when Braun Strowman won it from him either.
Otis shocks- or rather disappoints the world
Once the pandemic era began, WWE seemed pretty cautious with their bookings. Drew McIntyre faced Seth Rollins, Becky Lynch retained the Women's Championship, and the New Day held the SmackDown Tag Team Championships.
In a somewhat shocking turn of events, WWE had a comedy wrestler win the Money in the Bank. Otis is a skilled performer. He is agile for his size, can throw opponents halfway across the ring, and despite his look, is super charismatic.
However, winning the Money in the Bank contract was a step backward for WWE. Otis cashing in on Braun Strowman or Drew McIntyre was not a sight that WWE could even afford to imagine. No wonder they had the Miz snatch it from him.
Splitting the IIconics
WWE tried very hard to make Peyton Royce and Billy Kay look like serious competitors. The Aussie wrestlers have been used as comedy wrestlers since they won the Women's Tag Team Championships at WrestleMania 35.
To their misfortune, WWE could not follow up on the massive pop and positive reaction they received when they won at WrestleMania.
Peyton Royce is one of WWE's most underrated performers. A successful singles run beckoned Royce, but WWE got cold feet and stuck her into another makeshift tag team with Lacey Evans.
Meanwhile, Billie Kay is doing the best she can by showing off her unimpressive resume to people backstage. Splitting the IIconics was foolish, but was it the dullest decision of the year?
Randy Orton cuts Drew McIntyre's monumental WWE Title reign
Drew McIntyre was well on his way to becoming WWE's Superstar of the Year. The Scottish Warrior had an immaculate run in 2020.
He won the Royal Rumble, beat Brock Lesnar for the title, and destroyed every obstacle that stood in his way. Seth Rollins, Bobby Lashley, Dolph Ziggler, The Big Show, Andrade, and even his old teammate Heath Slater.
His destiny did a 180 when he crossed paths with Randy Orton. Fresh off of his massive win over Edge, the Viper looked ready to sink his fangs into the WWE Championship.
ADVERTISEMENT
Article continues below this ad
McIntyre beat Orton on two occasions, which is enough for him to move onto a fresh rivalry. However, WWE had him defend the title against Orton at Hell in a Cell where he ended up losing.
Orton picked up his 14th World Title but would lose it back to McIntyre a week before the Survivor Series. This tarnished Drew's year of dominance and made him look extremely weak heading into Survivor Series. No way he stood a chance in front of Roman Reigns after Orton derailed all his momentum.
ADVERTISEMENT
Article continues below this ad
These decisions led to what most people call the worst year in professional wrestling. They are what led to the tanking ratings and loss of viewership. Had Drew's title reign continued, fans would have been a lot more interested in Survivor Series. Had the IIconics not split up, they could've enjoyed a second run with the tag titles. The lesser said about Otis the better, but WWE dropped the ball in these instances.